I am so excited to share this latest project. When I heard that Art Gallery Fabrics was hosting a bag making contest with April Rhodes's new line I jumped at the chance to throw my hat in the ring. For starters, April's fabric designs are beautiful and totally my style. Follow that up with the feel and quality of Art Gallery's products and it was a no-brainer. This was the perfect prompt to spark my creative bag-making flow.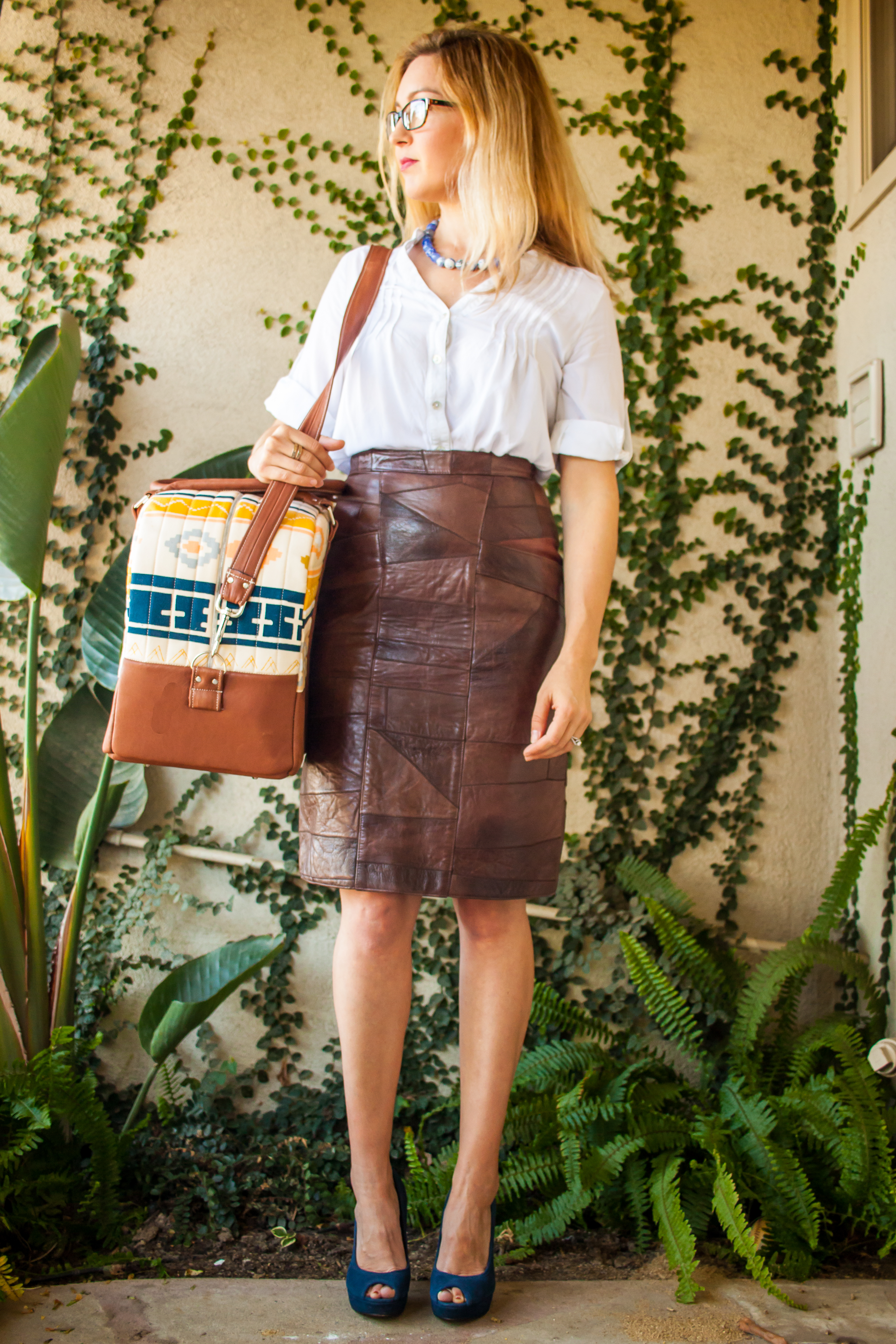 I am so pleased with how this bag turned out. It is everything I need in a weekender. The interior of the bag is very roomy with plenty of space for 3-4 days worth of clothes and 1-2 pairs of shoes. The pockets around the interior bottom are big enough to hold things like undergarments, socks, accessories, and more. The addition of the large detachable strap makes it comfortable to carry on my shoulder, or it can be carried buy the leather handles attached at each side. A tutorial for making your own leather wrapped bag handles such as this is in the works so stay tuned for that.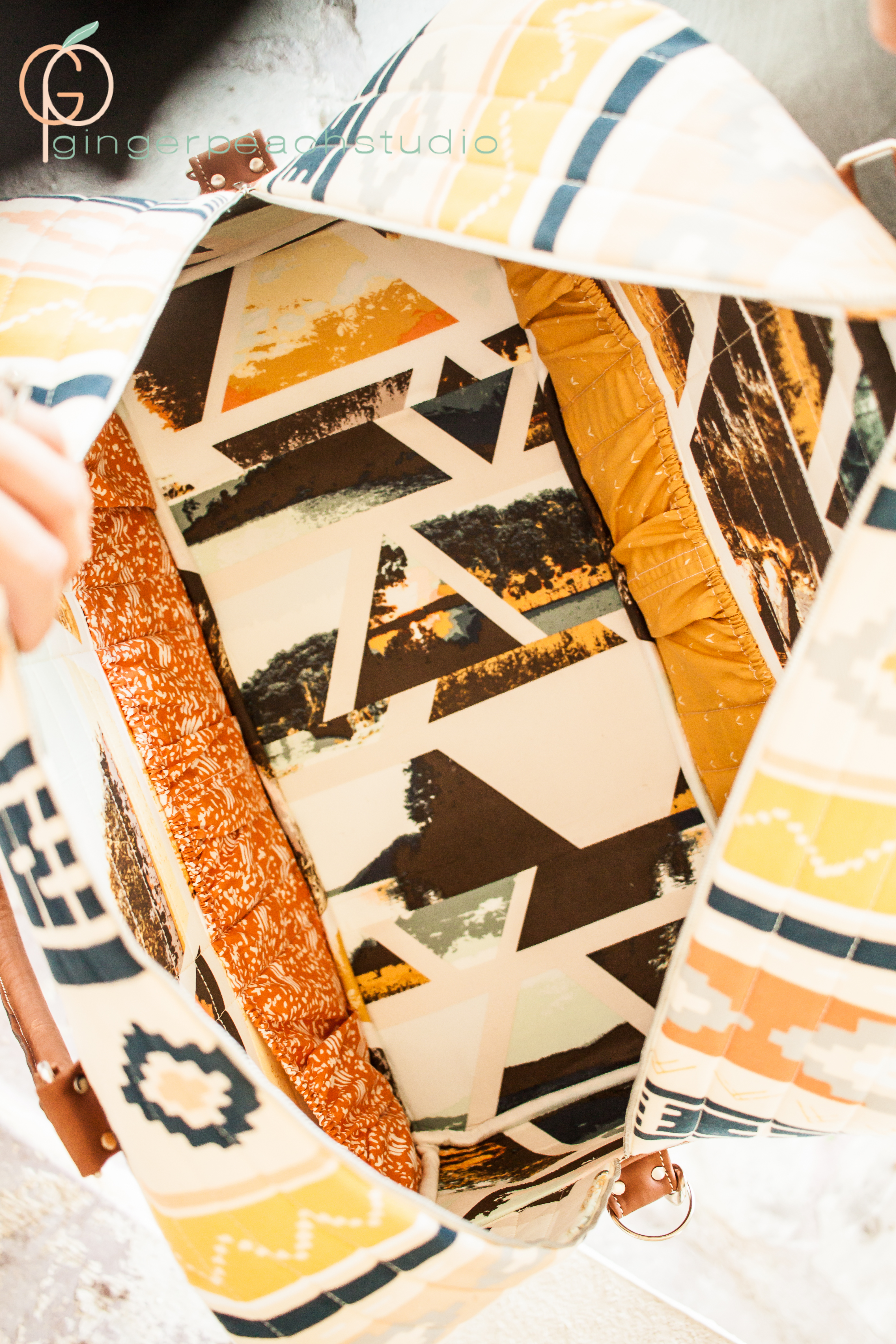 One thing that was a first for me was the addition of rivets. I bit the bullet and invested in the basic tools for inserting rivets, snaps, and eyelets into my leather projects. I love how they give the bag a professional finish. All leather working products were purchased from Tandy Leather. This was the first time I have ever ordered from them and I had the absolute best experience. The delivery man handed me my order less than 24 hours after placing it online. You can't beat that kind of service. Not only that, they have an extensive video library on their website that demonstrates most their products. Fantastic company.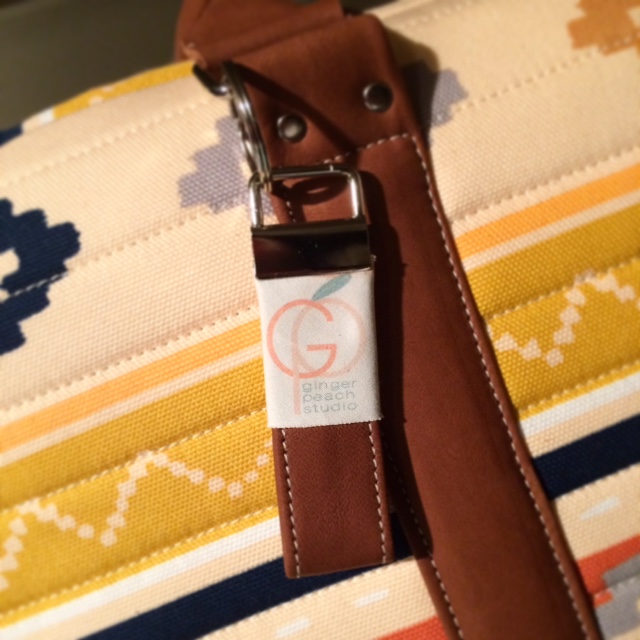 The rest of this post is a bit about my process, materials, and how this bag came to be. After deciding I wanted to give the contest a go, my next stop was my "bags" board on Pinterest to gather ideas for what I might want to make. Although I had a very strong contender on that Pinterest board I was having trouble finding a key piece of hardware I would need to make the bag in my mind. While in my studio pondering this dilemma and trying to find a work-around with the supplies I already had, I glanced up from my seat and saw this…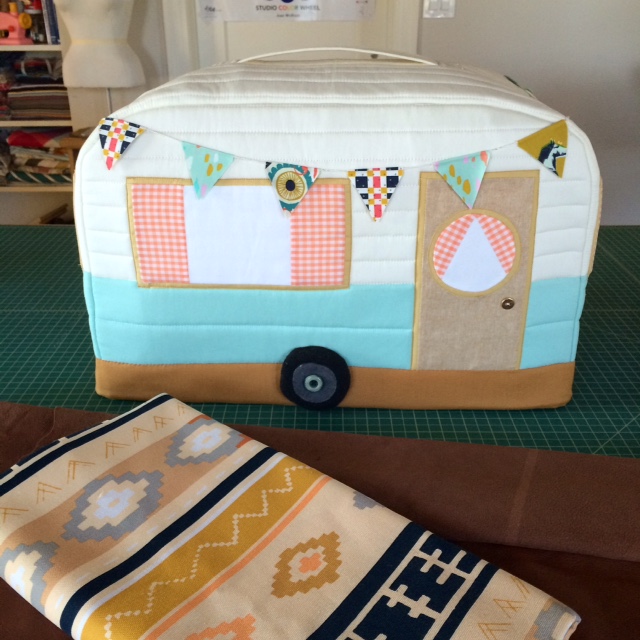 It was then that I realized the bag I was envisioning was exactly the same shape as My Retro Caravan sewing machine cover. I already had everything I needed to make the sewing machine cover. All I would need to do is locate some easy to find hardware, add a zipper, handles, bottom, and a few lovely details. I adjusted my plan and dove right in.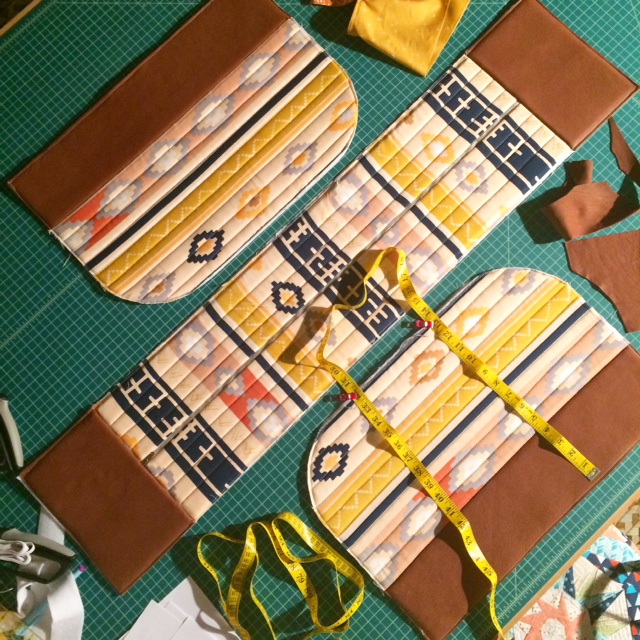 I used canvas from April Rhodes's Bound collection for the upper-outer portion of the bag. The outer-lower portion of the bag is made from Italian lambskin purchased on Ebay that I have been hoarding for about a year. I constructed each section of the bag and quilted all the layers including the bag lining. I have developed a technique for doing this that makes the bag sturdy and hold its shape very well. That being said, I must admit that one of the secrets to my success in making sturdy, rigid bags is my Juki 8700 industrial straight-stitch machine. She can handle bulk like no other sewing machine I have used. You can read a bit more about that in my Caravan post. Just to give you an idea of what I was up against with this bag, there were some areas where I was sewing through 4 layers of lambskin, two layers of medium loft batting, two layers of Peltex 71F by Pellon (this is what gives the bag rigidity), plus 3 layers of fabric all at once. That kind of bulk is not for the faint of heart…or a machine without a fair amount of muscle. I have found that when sewing leather with a NON-walking foot machine, there are a few things you can do to help improve results.
Tips for Sewing Leather:
Use Bonded Nylon Thread.  I buy mine from ThreadArt.com.  The thread is bonded together so the plys do not unravel.  Also the coating helps reduce friction with eye of the needle.
Use a large needle (16-18) with a LARGE EYE.  This is very important.  If you use a small eye with the heavier thread you will have shredding problems.
Use a supple leather (like lambskin) and stabilize it on the WRONG side with a woven fusible such as Shape-Flex by Pellon.  Doing this allows you to use a thin, soft leather that is easier to penetrate with out it losing its shape or stretching too much.  This is essential for making straps.  I had no issue fusing the stabilizer to the wrong side of the leather with a high heat setting, but always do a test-run with scraps to be safe.
Take some time before you start and Dial in your tension settings.  Always, always, always, but especially when you are using a material such as leather. which your machine may not be designed to sew on a regular basis.
Use a teflon presser foot to help the feed dogs out a bit and reduce drag.
Increase your stitch length to 3 or higher for top stitching depending on your desired look.
I have found an Electrician's Pick up tool to be very helpful for turning tubes to make straps.  Especially Leather tubes. Much easier than a safety pin.
Before you start a section of topstitching check that you have enough bobbin thread to finish the entire bit of topstitching you are working on.  You don't want starts and stops to fall on key design elements (in this case, straps going down the front and back of the bag).  This is particularly true if you are using contrasting thread on the leather as I did with this project.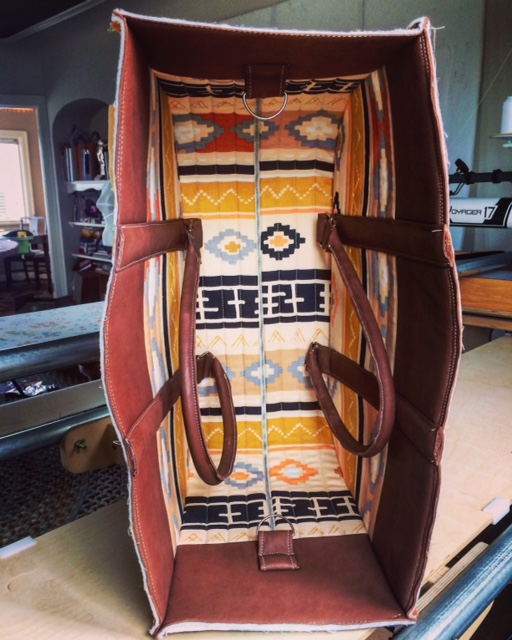 For the inside of the bag I chose to use 3 prints from April's previous line, "Wanderer" for a couple reasons. One, eventhough I had to piece some of the lining bits together, I already had all of this in my stash. Perhaps the more important reason though, was that this is a weekender bag and the Wanderer collection (especially the main lining print) could not be more perfectly themed for a bag such as this. It was meant to be. As you can see in the photo above, the bag is quilted through the lining, giving it a super smooth finish. I also added interior pockets with encased elastic to keep all my necessities organized and in their place while traveling. I made the bottom of the bag rigid by encasing a rectangular piece of corrugated plastic from Home Depot in bags bottom. I also Added Purse feet to help keep the leather from scuffing on the bottom of the bag.  I finished the bag with bound seams to give it a nice clean finish with no raw edges.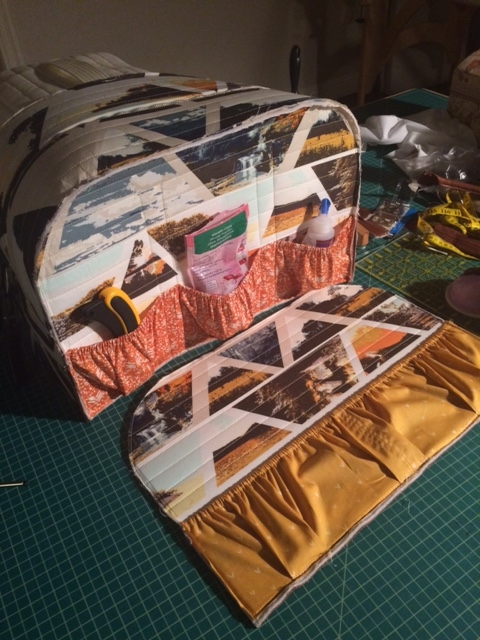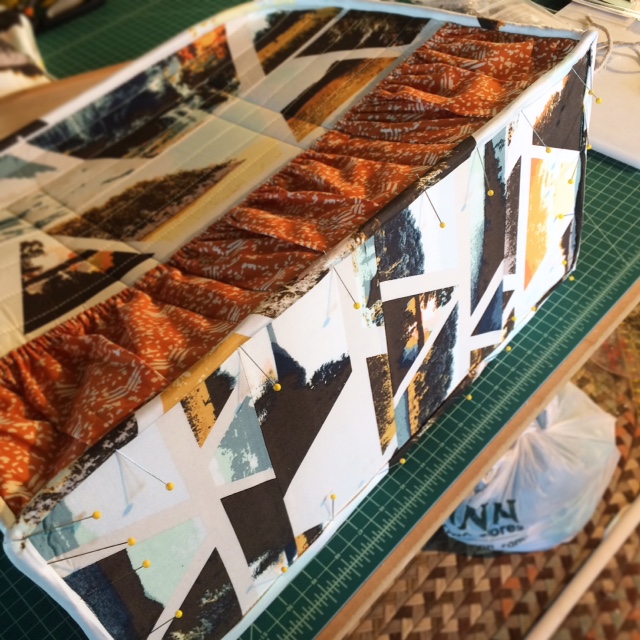 I am just in love with this bag. It is the perfect grab and go carry-on for a quick weekend away. The style is perfect for me as is the size. I know that this bag an I will have many wonderful years together. If you have any questions about my process or sewing with leather and bulk. Please comment or email me and I will do my best to help you out. Also don't forget to cast your vote for the #BoundChallenge on Art Gallery's Pinterest page. There are so many lovely and talented makers displaying their work there. Go choose your favorite!