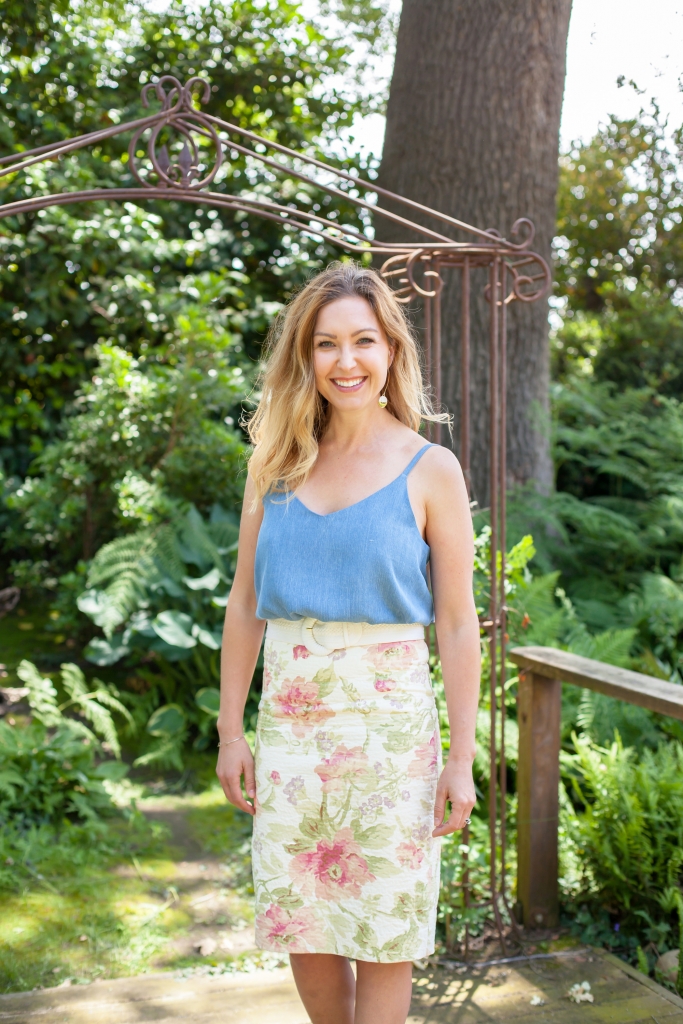 Holy smokes it has been a crazy couple of months.  I have been riding a project whirlwind lately and an emotional roller coaster to boot.  As I see Summer racing towards me I feel both excited for a break from school and terrified for the disaster that my house will be for the next 3 months with the kids home all day.  Relief and panic intermingling in the same emotional space.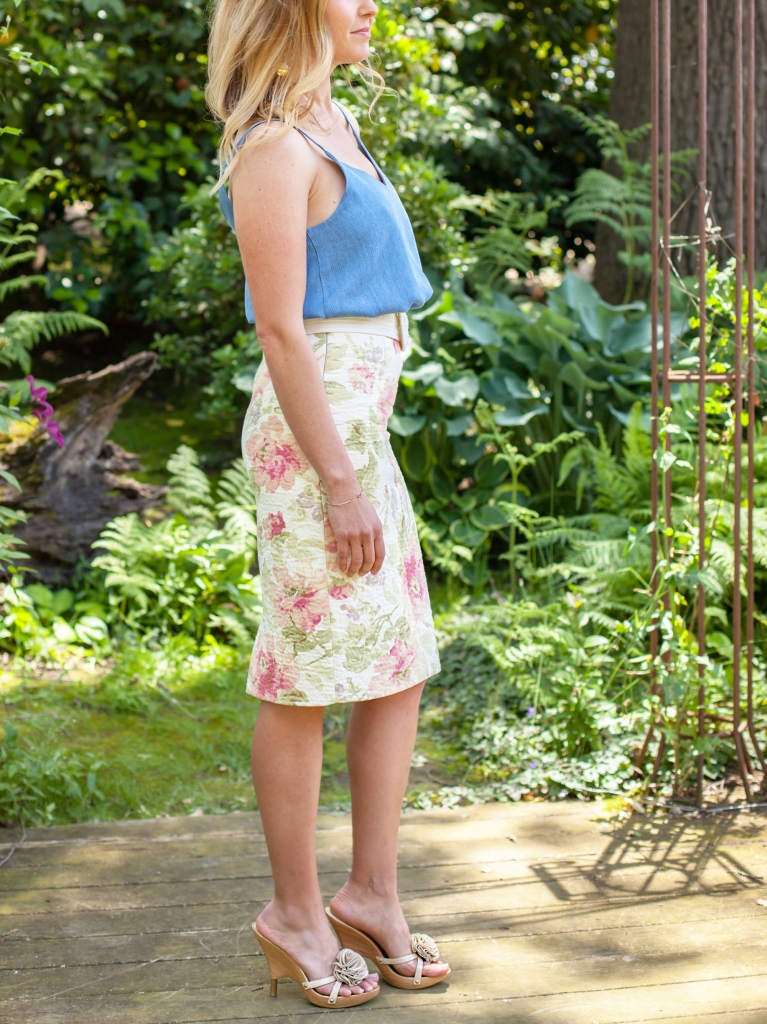 Sunday was Mother's Day and I was grateful for a moment to set down all the projects and take a little break.  It turned out to be one of those perfect days were the family was all together and everyone was in a great mood.  The kids were well-behaved and they got to release their energy playing with cousins outside on gorgeous sunny day.  We had brunch at my parents' house and I received some lovely gifts from my kids.  I even got to leisurely sew a bit in the afternoon…A perfect day, indeed.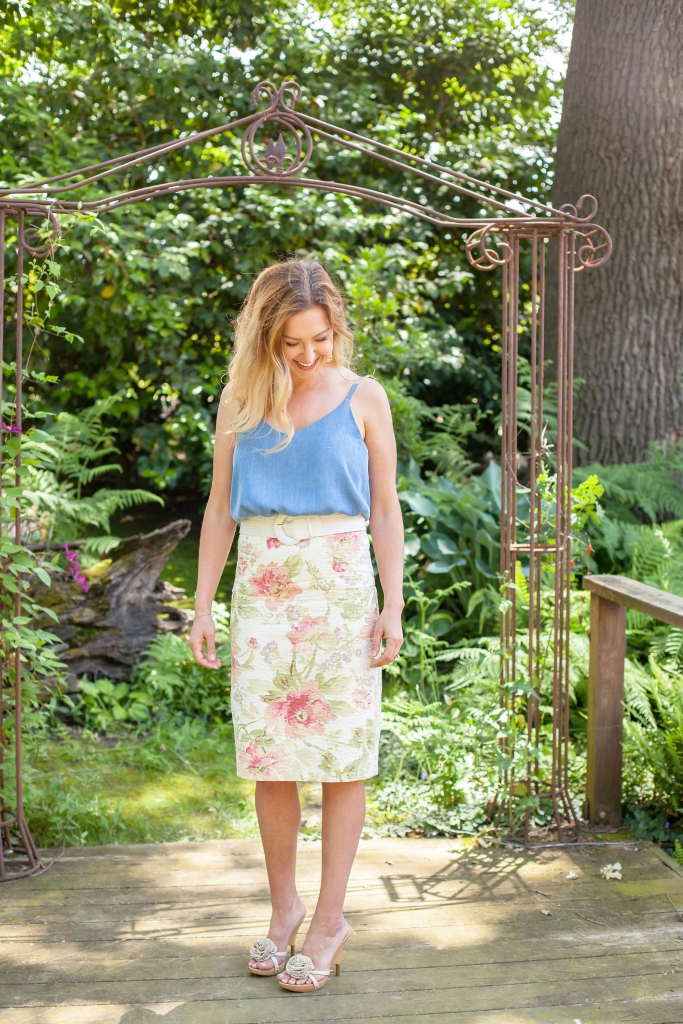 I find as I get older my opportunities to dress up and wear pretty outfits like this are becoming ever more seldom.  In my twenties I would use just about any occasion as an excuse to dress up, but nowadays the thought of getting gussied up for elementary school pickup seems more than just a little impractical.  Our annual Mother's Day brunch seemed the perfect occasion to wear my floral Pleated Pencil Skirt for the first time.  I had made it a few weeks prior without a solid plan for when I'd wear it.  It ended up being just the thing for a lovely morning with family under the canopy of oak trees on a picturesque day.  Best Mother's Day yet.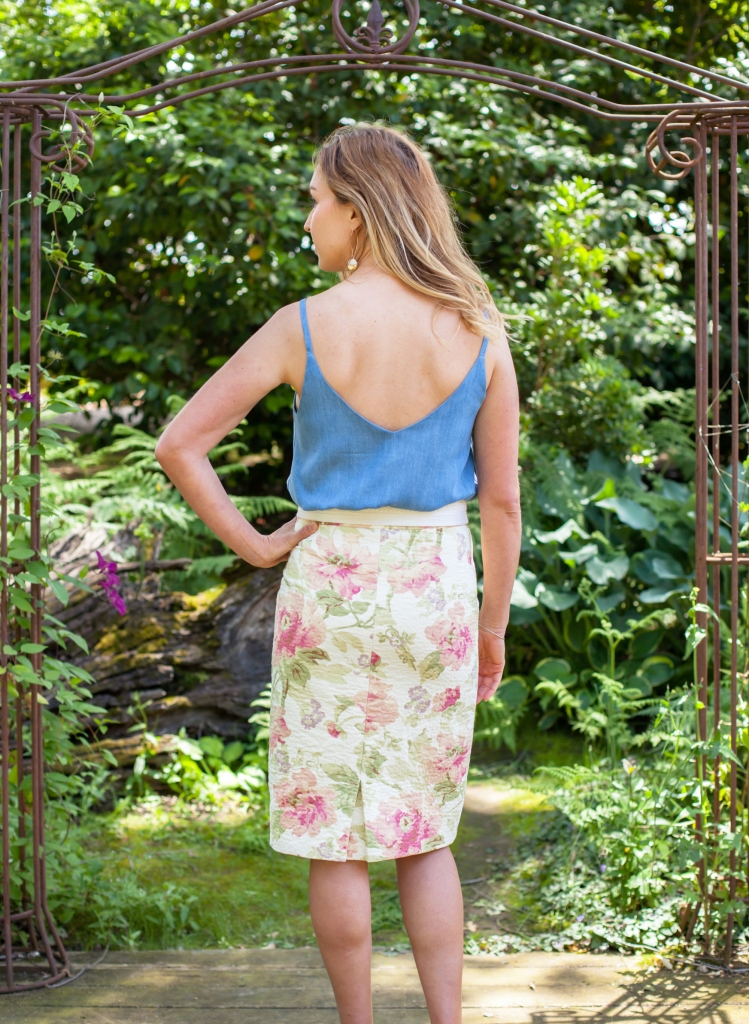 I paired the skirt with my first True Bias Ogden Cami and I must say, if ever there was a "one-yard-wonder" the Ogden is it. I can't remember the last time I found a pattern this easy and versatile.  It is a fantastic instant gratification project.  The kind that you can whip up in a flash when you have nothing to wear and you just want something new.  I love it.  It is destined to be a Summer wardrobe staple for sure.  I will sing the praises of any garment that is as wearable on a date as it is thrown over a bathing suit with cutoffs at the pool.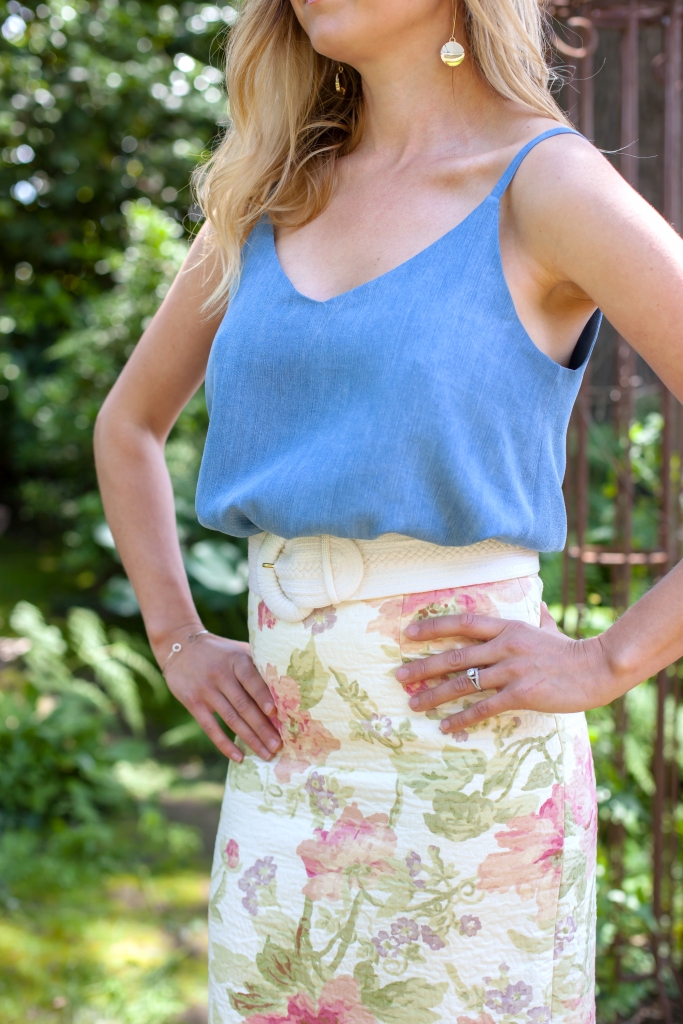 The fabric I used is a long-stashed Tencel chambray that I almost forgot I had.  Tencel is one of the those miraculous fabrics that can have incredible drape with medium body and no bulk.  It is soft, smooth, and feels cool on the skin.  I think in the future I may play with the idea of adding bust darts to Ogden.  Not because I think it absolutely needs them, but in some cases I think I'd like just a bit more contour.  For this top in particular I love how the simple construction gives the cami a smooth finish that allows the texture of the fabric to really take center stage.  It is simple and elegant with no distracting seams.  I am itching now to pair thie Ogden with other True Bias patterns like Hudson Pants and Emmerson Cropped Pants and do a mash-up.  I'm having a wide-leg jumper obsession lately and I do believe that project may have to shoot straight to the top of my sewing queue.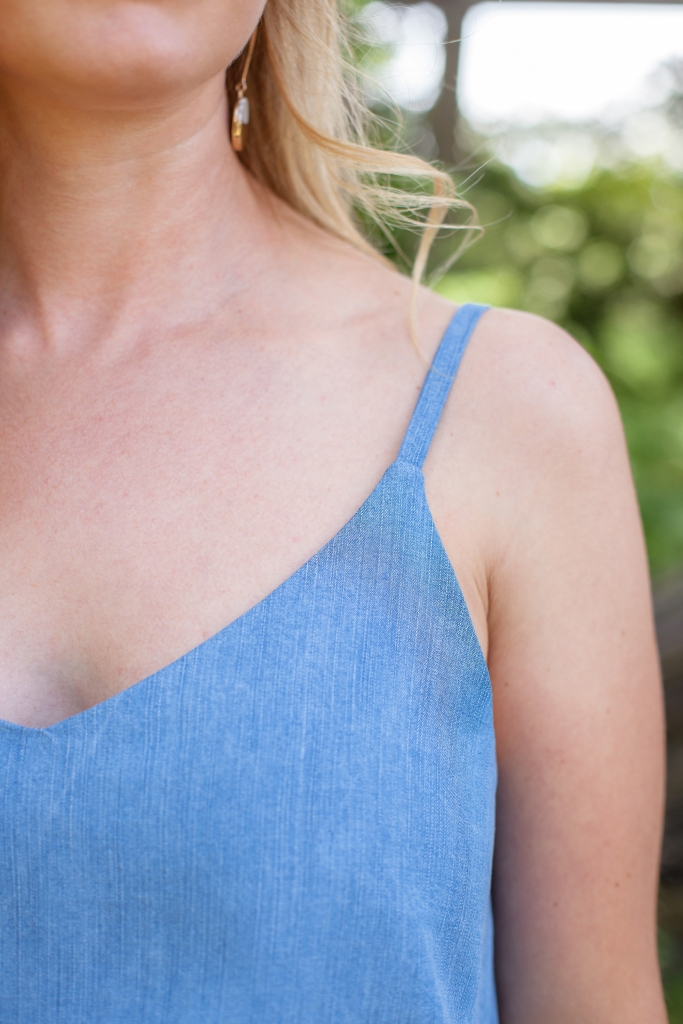 The Pleated Pencil Skirt was also a great pattern with clear instructions.  If you've never made a garment with a lining, skirts of this type are a great introduction to basic lined garment techniques.  When shopping for the right linings for garments the number one thing I look for besides color is a fabric that is slick and will not cling to the outer.  Linings tend to be made out of man-made fibers for this reason.  Natural fibers, with the exception of silk, generally do not have the same kind of smooth finish that you can get easily and inexpensively from man-made fibers.  Also, always line your garments in a lighter weight that has less body that your outer fabric.  If lining your garment with a printed fabric be sure that your outer fabric is opaque enough that you cannot see the lining through when standing in the sunlight.  Because linings have a tendency to be silky and shifty.  Steam fabric before you cut it, lay it out on the table and allow it to rest for about a half an hour before cutting.  This is especially important if it has been folded up for a long period of time.  This will help to eliminate wonkiness, shift, and accidental off-grain cutting.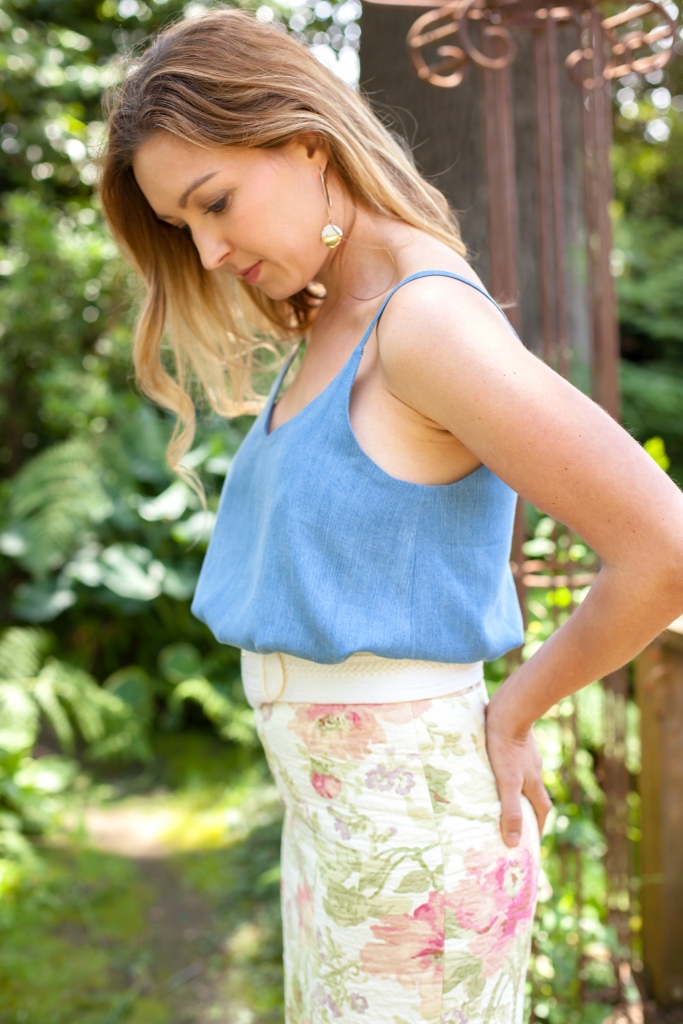 Another highly recommended step is to make a muslin of your skirt before you cut into your fashion fabric.  Every person's body shape is different there is no guarantee the pattern will fit right out of the envelope.  In fact most of the time, for most people, they don't.  This is especially true when the garment is fitted.  I would say I made substantial changes to the pattern pieces to get the fit you see here.  Another reason this is important is that the invisible zipper is located on the side.  Often times when a zipper is located in the back, fit adjustments can be easily made by taking in the side seams.  NOT SO WITH THIS PATTERN.  If your final garment ends up too big you will have to remove the zipper, adjust pattern pieces and then reinstall the zipper.  You're better of to just make your muslin.  Get it right.  Then you can hit the ground running with confidence.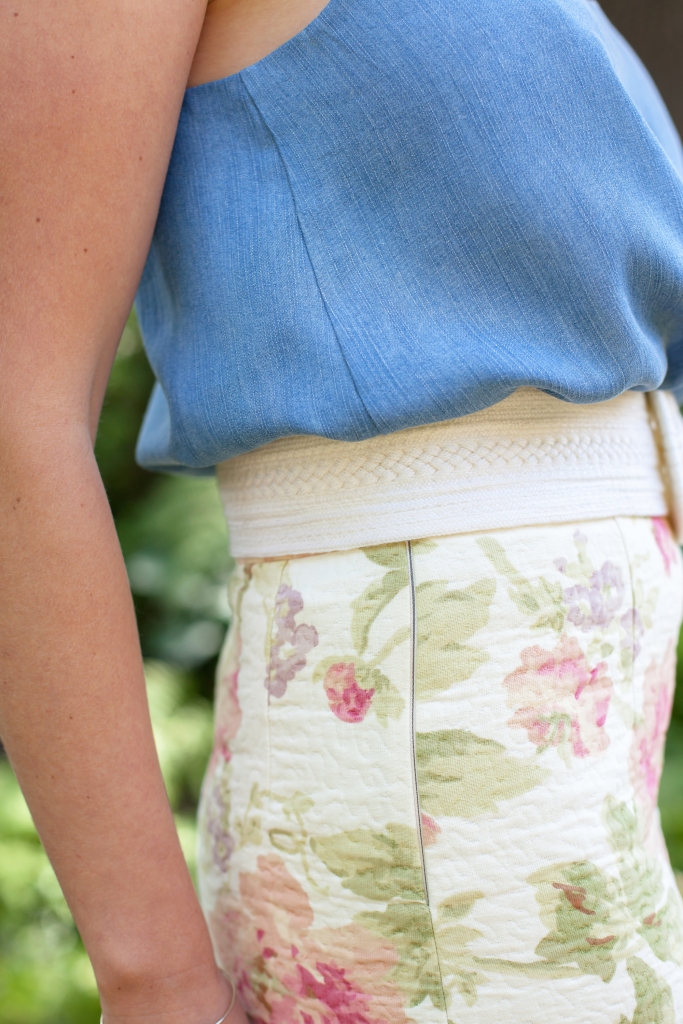 There was a slight chill in the air on Sunday so I topped the whole ensemble with this RTW Ponte blazer that has turned out to be one of the smartest pieces I've ever purchased.  It goes with almost everything.  The belt was thrifted and the shoes are Guiseppe Zanotti circa 2002.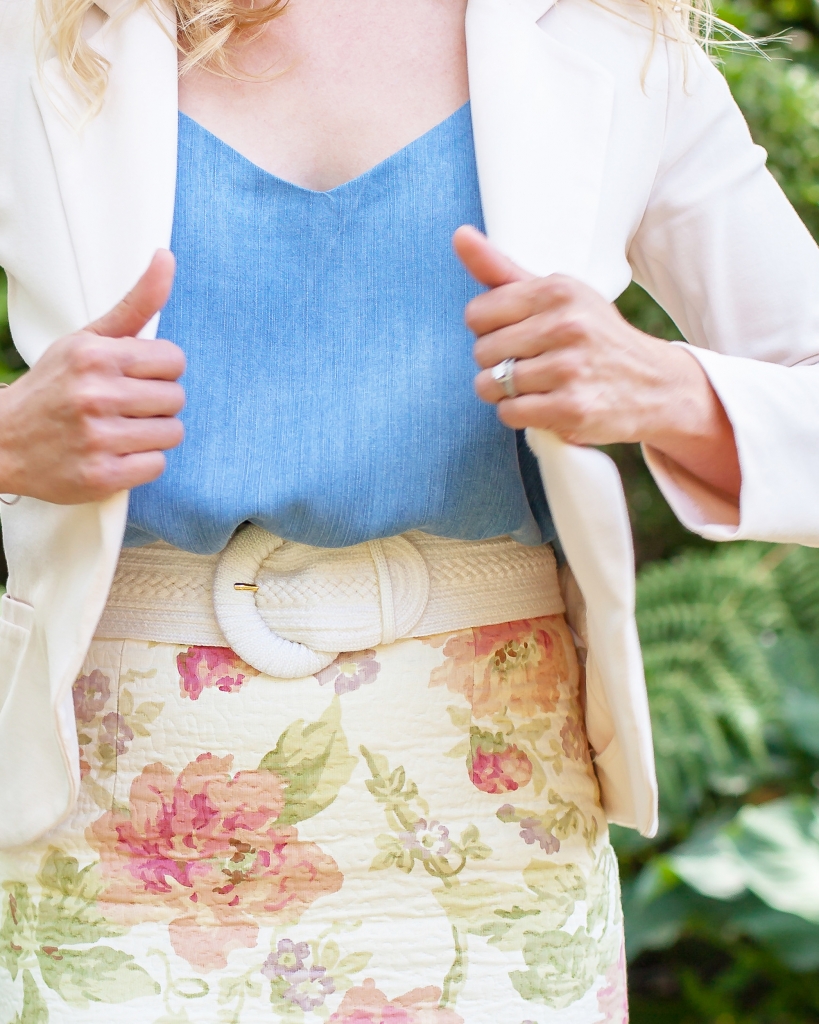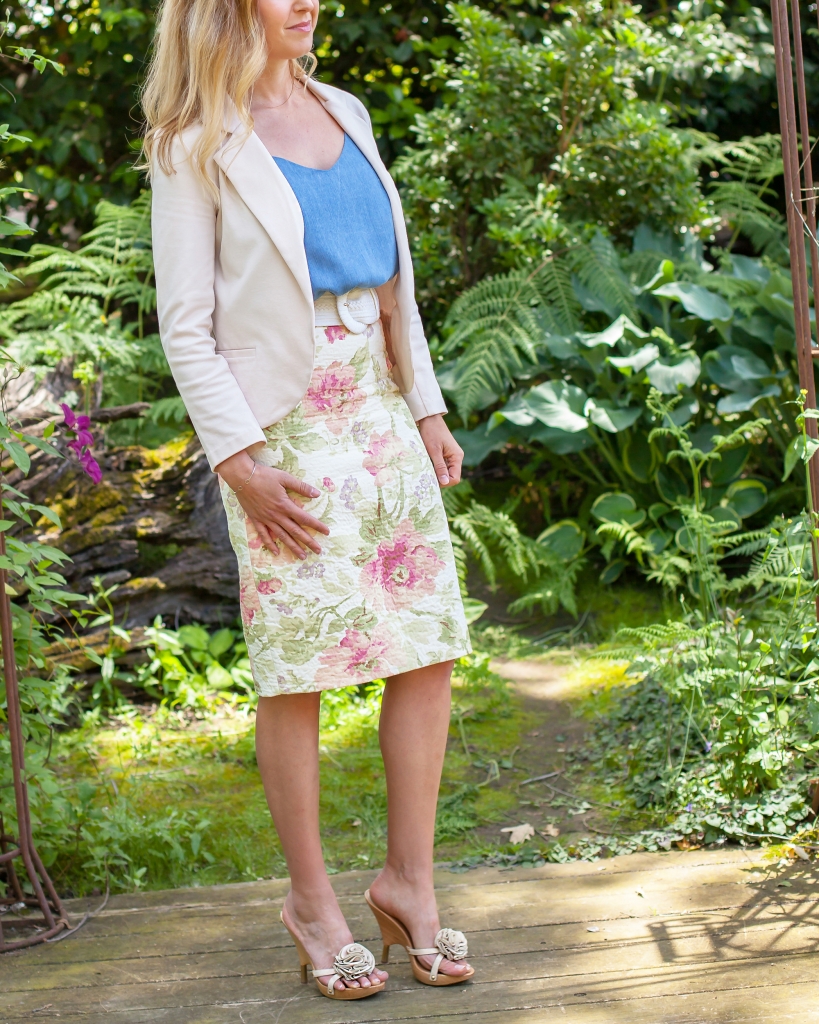 Patterns used to sew the garments this post can be purchased at Indiesew:
Pleated Pencil Skirt by Delia Creates