Holy smokes friends… Summer has finally come to a close and I'm telling you I have never been more ready.  Harvest season is over and I have been rising daily to greet the sun and morning air with new energy and a refreshed spirit.  Nothing gives me a keener sense of possibility than when the seasons click and a brutally hot summer gives way to more forgiving temperatures.  It is finally cool enough to sleep with the windows open and I have been sleeping like a little lamb every night.  I love everything about this season, the colors, the weather, the clothes, boots, hot drinks, soup, bonfires…honestly I could go on and on.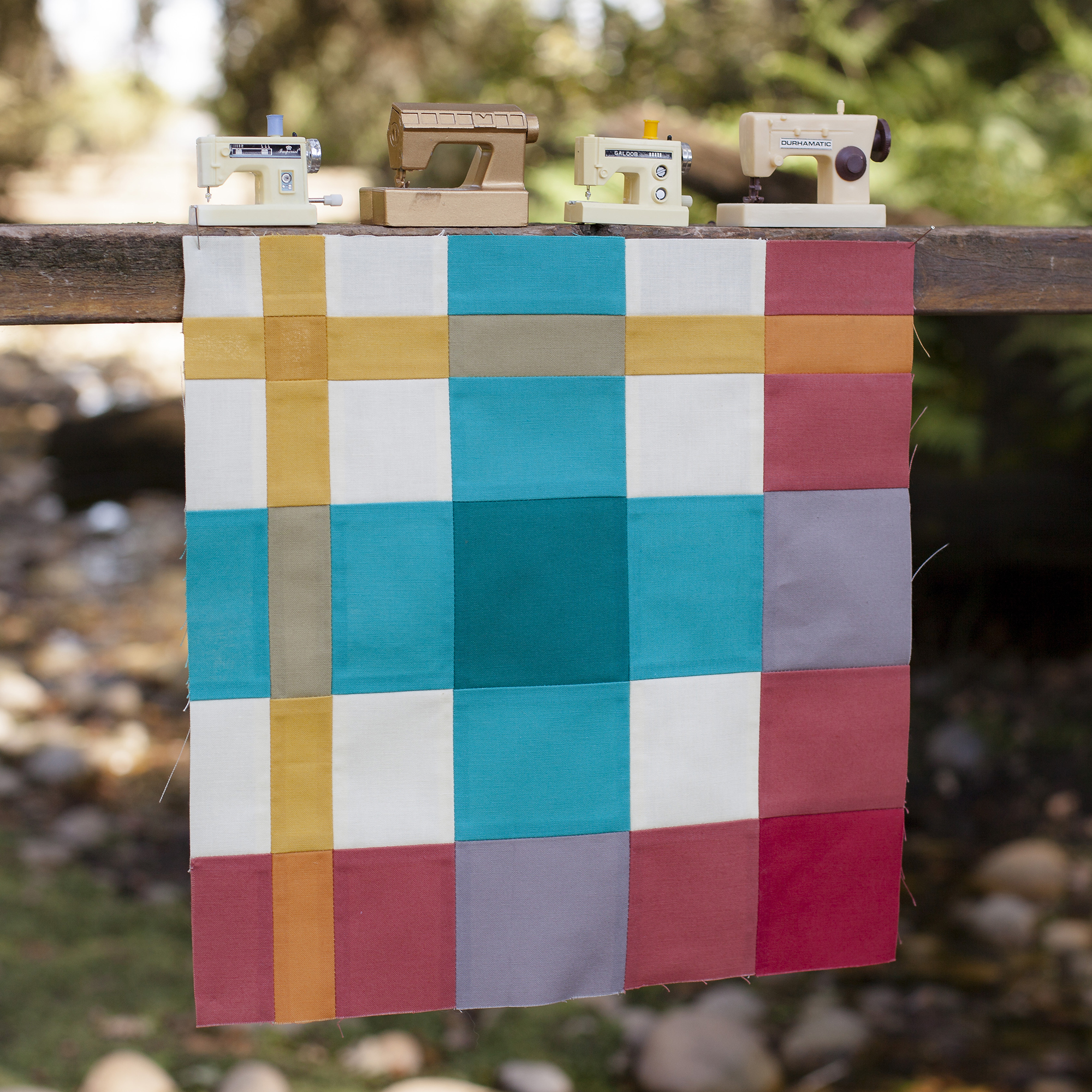 So as we usher in this wonderful season I'm ready for all things Fall and for me that means it is time to bring out aaaallllll the plaids.  I have always been and will always be a huge sucker for two kinds fabric designs, big plaids and big florals, in that order.  When I joined this awesome group of makers for Fabric.com's Fall Block Party I knew almost instantly that my block design would take on the form of cross woven colors in some way or another.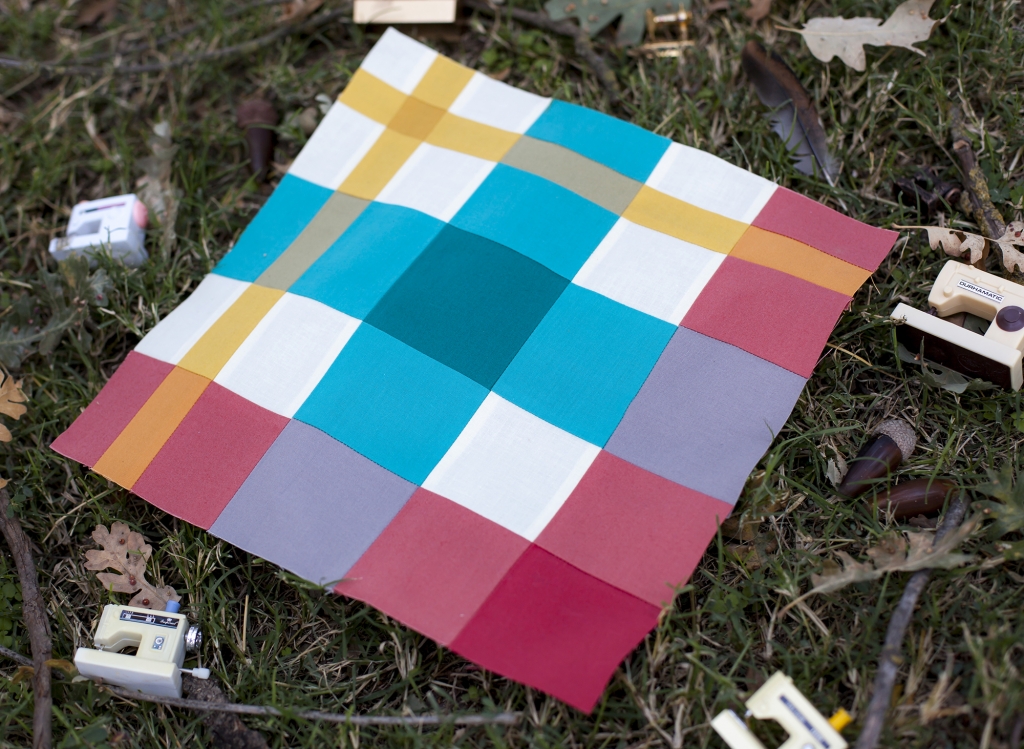 Not only do I love plaids simply because they're my favorite type of fabric design, but I love sewing plaid blocks because they incorporate one of my most loved techniques.  Whenever I design a quilt I always have piecing efficiency in the forefront of my mind.  I want to be accurate but quick, with as little time back and forth from the ironing board as possible.  Strip-and-Slash is great for this.  I find it not only reduces sewing and ironing time but cutting time is virtually slashed in half and there are less raw-edged pieces to deal with overall.  It takes a bit of visualization and thinking through in the beginning but once you understand the process you can make a gorgeous bed sized quilt in a fraction of the time.  Hooray for efficient sewing.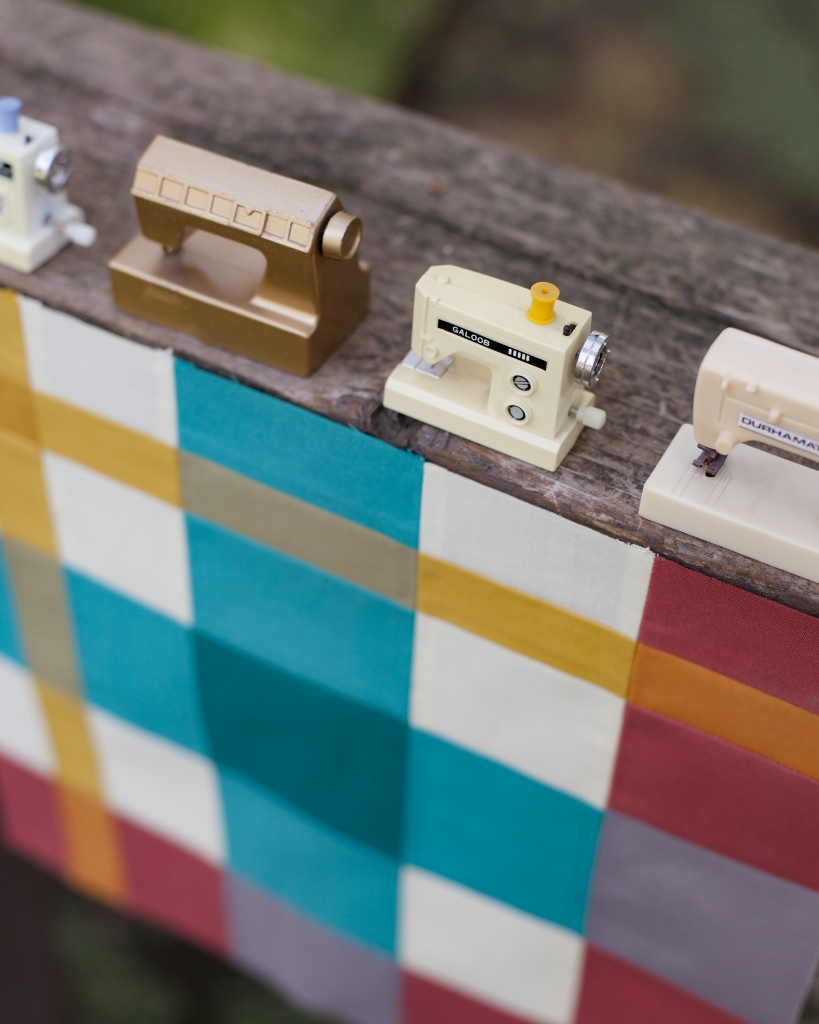 I designed this block with the intermediate quilter in mind due to the high number of seams that have to be matched.  And while the Strip-and-Slash technique may not be as intuitive as other methods of construction, I find that a careful reading of the instructions before beginning is usually enough to get almost anyone familiar with how it works.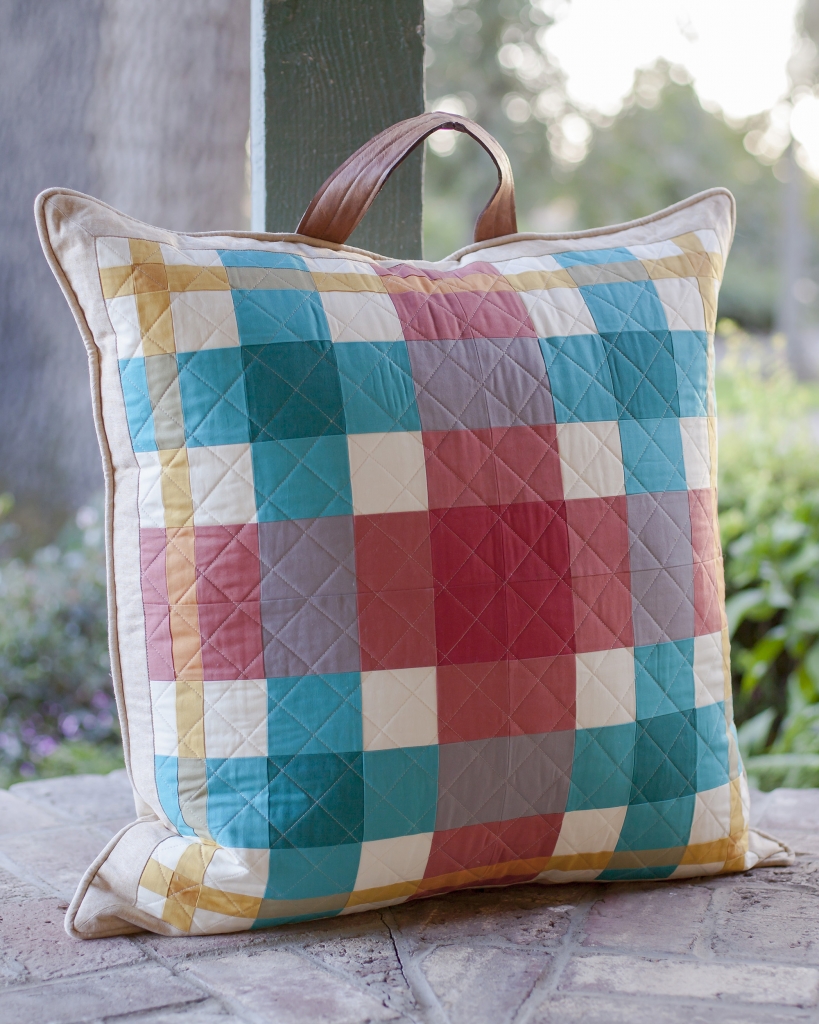 I had originally planned to make the mini version of the Mod Tartan and hang it up in my studio but when I came across a new, unused Euro sham insert stashed up high in a closet it got me thinking…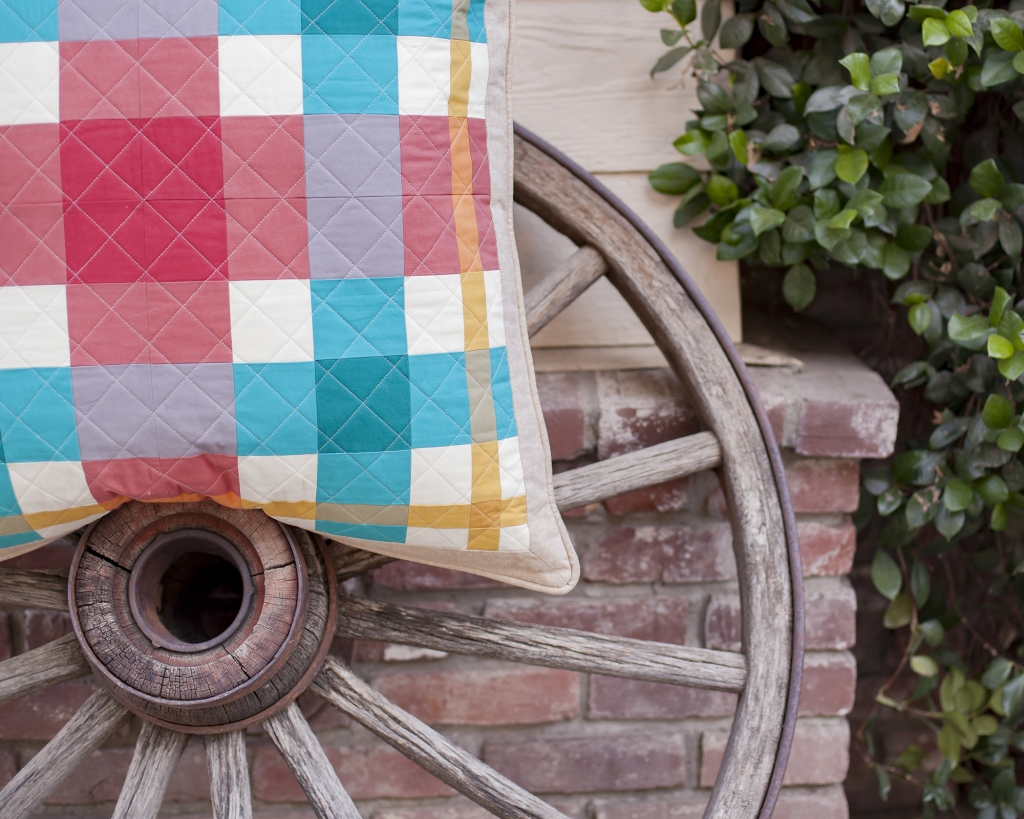 I rarely feel more satisfied than when I make something and my love for its beauty is trumped only by its practicality.  I mean, pretty and functional?  Isn't that basically the Holy Grail of a well-designed item?  As makers we have this compulsion to make and make and make.  Before you know it there's a pile of quilts in the corner of the living room and so many pillows on the couch that you have to move them all  to lie down.  So.  Many.  Pillows.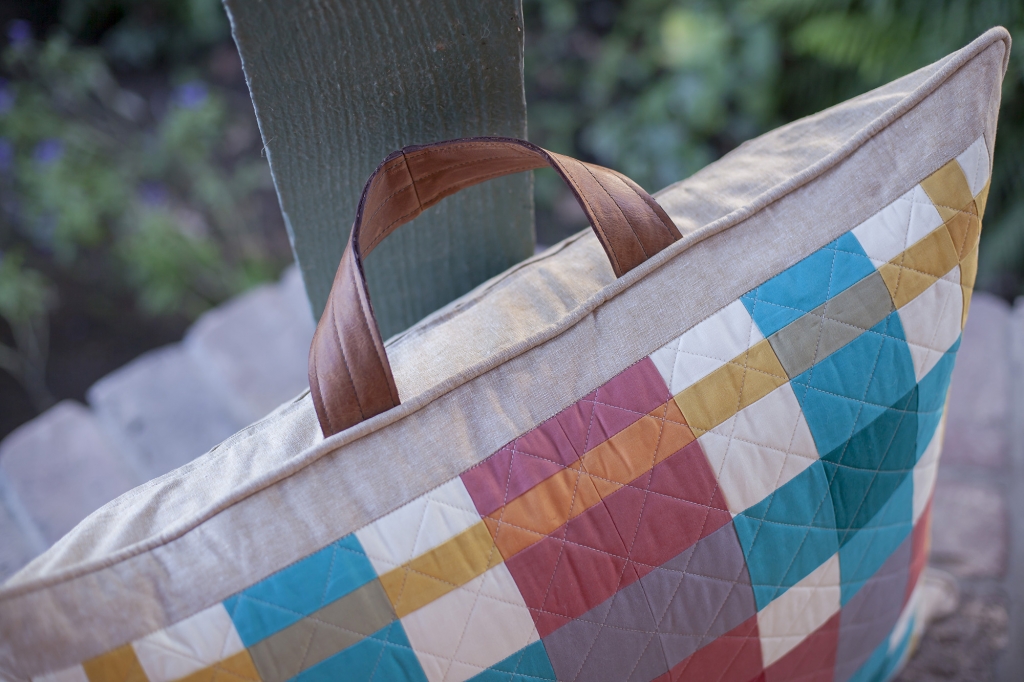 So what do we do when we run out of room for pillows on the couch??  We make floor cushions, of course!  Bring on the football games and movie nights.  As soon as I stuffed the giant insert into this pillow cover Evelyn did a giant leap and flung herself on top of it.  The second thing she did was grab it by the handle and drag it into the living room so she could lie on the floor and watch The Lion King.  I knew immediately this would be an "I-called-dibs," "it's-my-turn-with-the-big-pillow," "I-had-it-first" kind of item.  A truly perfect living room floor pillow.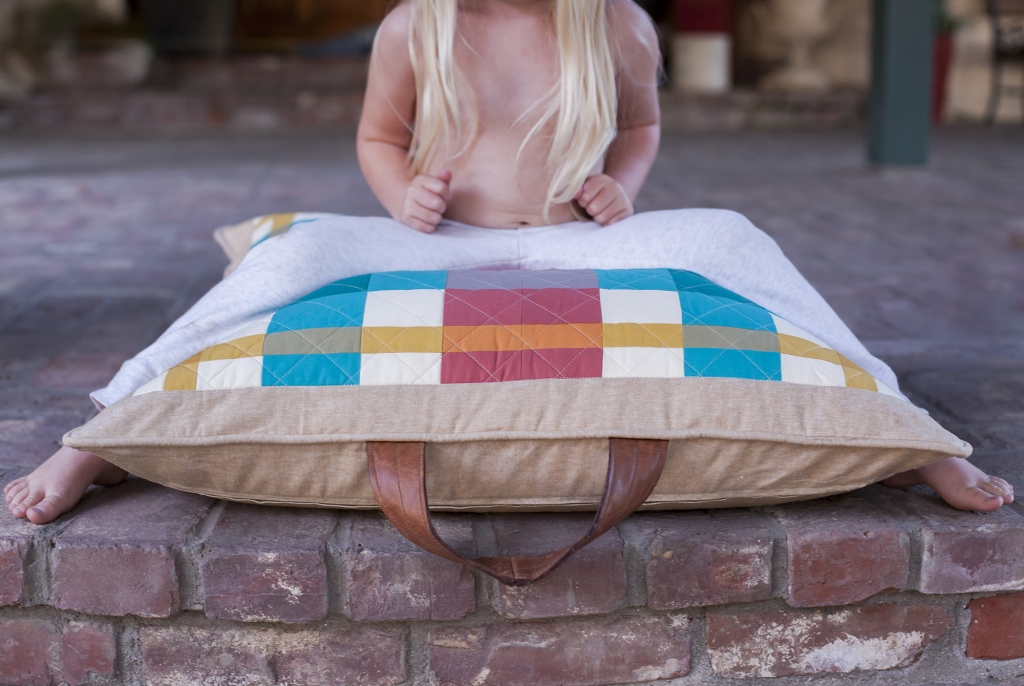 I love how easily it can be grabbed by the handle and plopped any old place you want to lay.  Snatch a cozy quilt from the plentiful stack in the corner, insert movie,  grab the popcorn and press play.  The only thing that makes that scene in my head more perfect would be the soft pitter patter of rain on the roof.  Did I mention that I love Fall and cool weather? 😉  It restores my soul.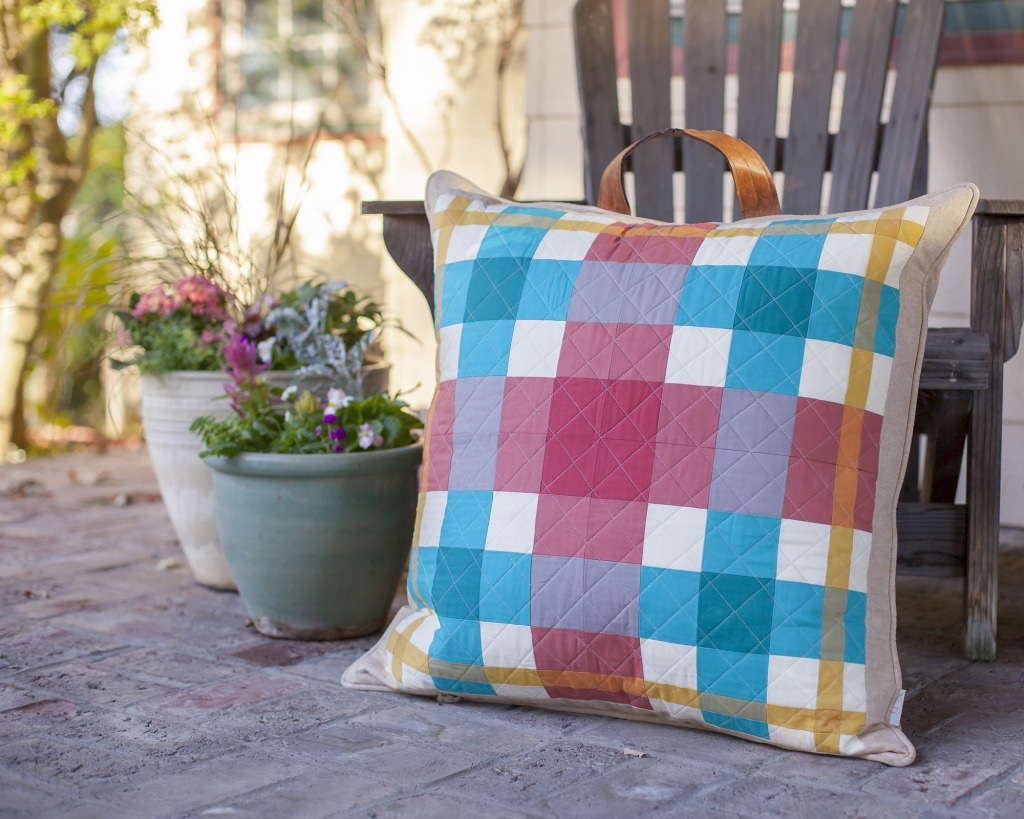 If you are like me and you just can't get enough plaid in the Fall (or any other time of year) head on over to the Fabric.com blog and download a copy of Mod Tartan so you can get started on your own.  There are instructions for a single block, a 24″ mini, and a 72″ quilt included with the pattern.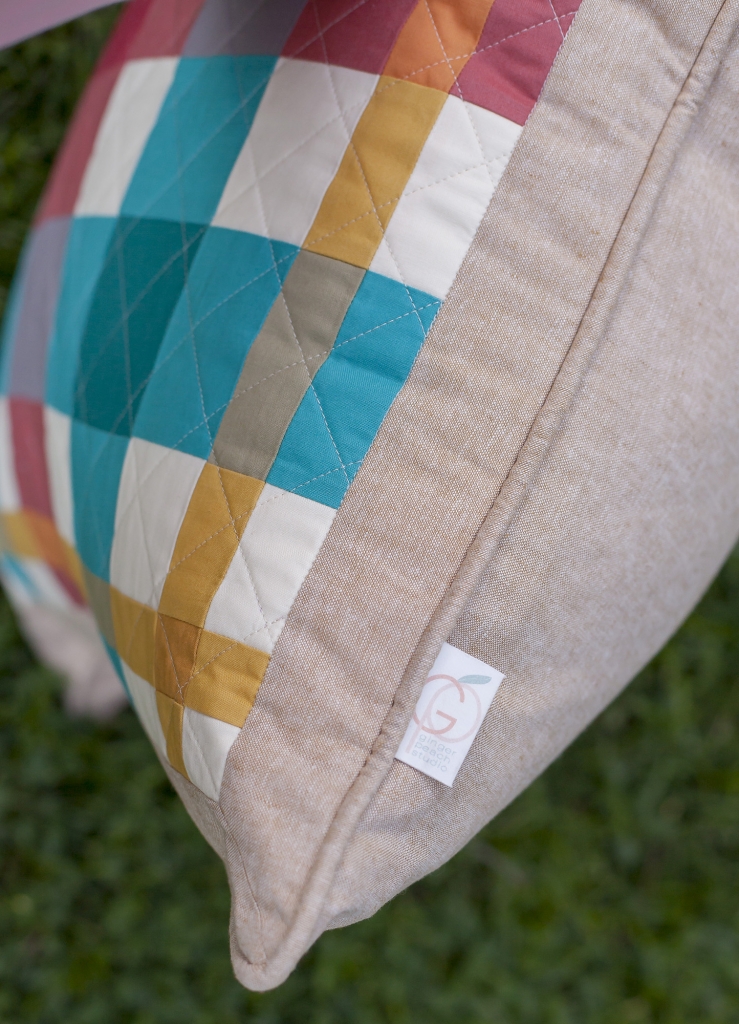 I used the mini version of the quilt to make this floor pillow using Fat Quarters of the following Kona cottons.  All fabrics are available at Fabric.com.
Kona Eggshell
Kona Curry
Kona Jade Green
Kona Sienna
Kona Yarrow
Kona Sweet Pea
Kona Amber
Kona Emerald
Kona Smoke
Kona Cayenne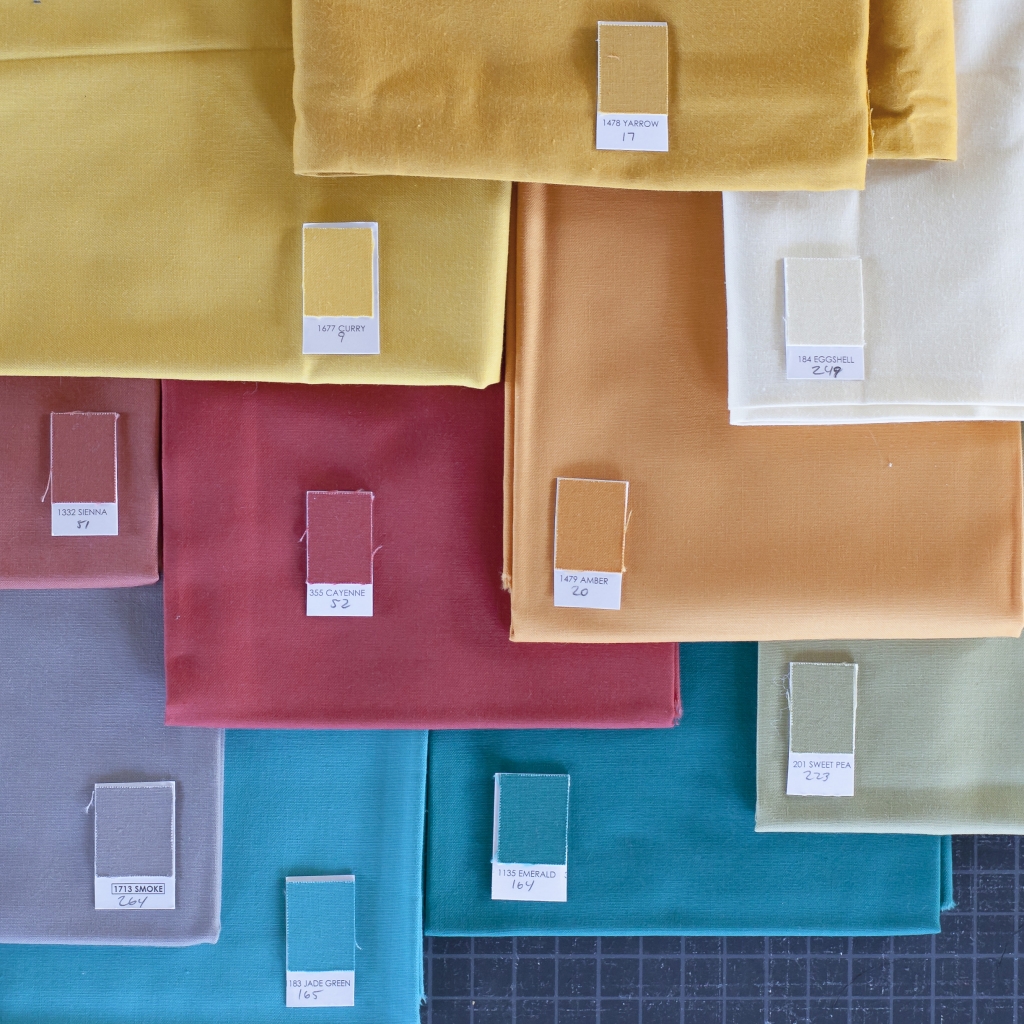 If you're interested in making a large floor cushion like this one you will need an additional yard of Essex linen in Leather, and a couple scraps of leather or Faux leather such as this one here.  I also added a centered, lapped 22″ zipper on the upper back part of the pillow cover to keep it closed and make its easily removed for cleaning.
The Fabric.com block party is in full swing, friends!  We are having a sew along and if you are a little late, don't fret.  There's still plenty of time to jump in and get involved.  Click here to get your FREE Mod Tartan pattern!
Sept 12 – Fall Geese
Sept 19 – Woodland Mushroom
Sept 26 – Mod Tartan
Oct 3 – Time Lapse
Oct 10 – Double Windmill
Oct 17 – Antlers
Oct 24 – Gather
Oct 31 – Forest Floor
Nov 7 – Flutter By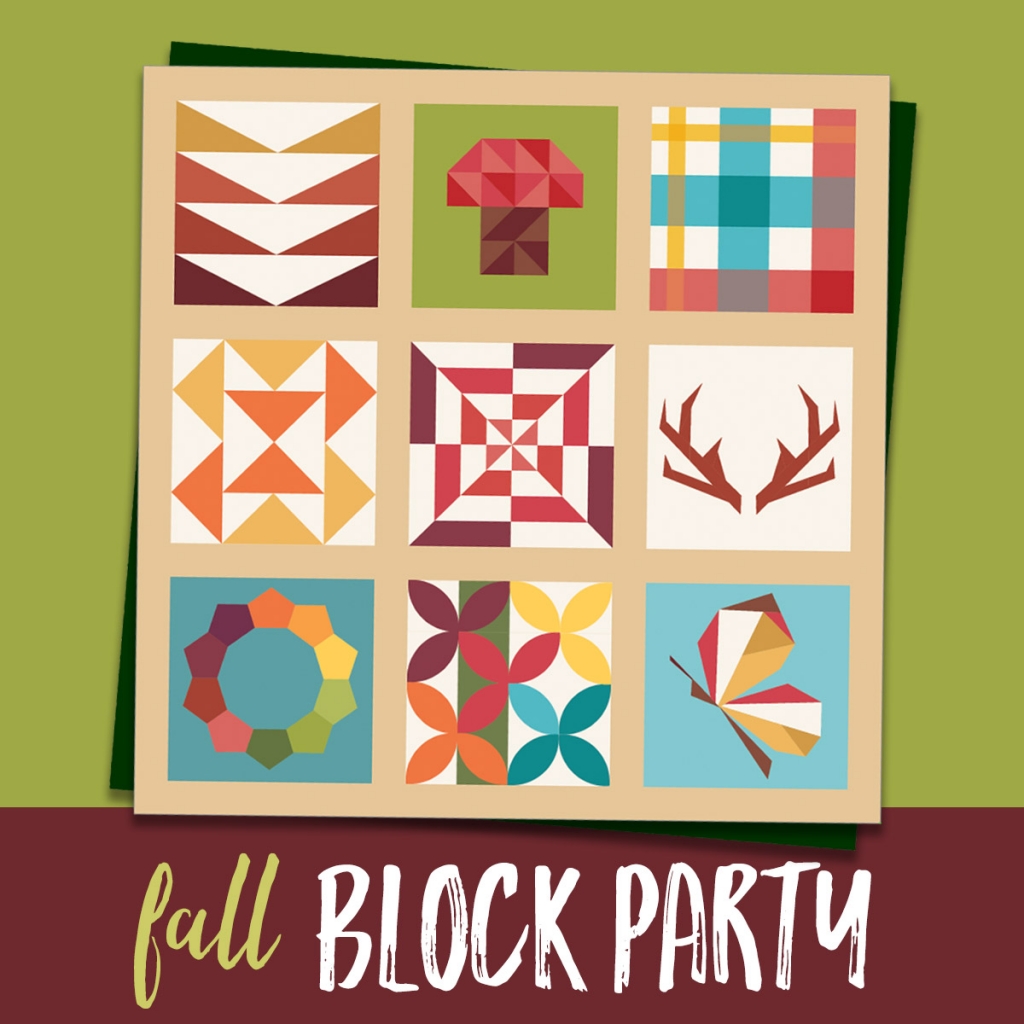 This is a sponsored post.  All fabric was provided by Fabric.com.