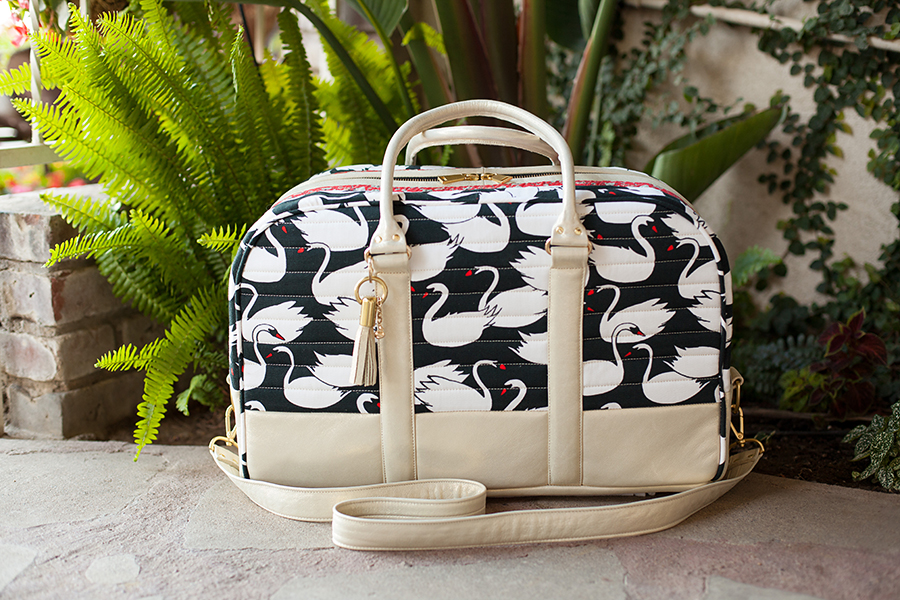 Hello friends!  Today is my stop on the Hello, Ollie Blog tour and I am so excited to finally get these photos up to share with you all.  If you attended Quilt Market back in May you may have caught glimpse of this pretty lady in Bonnie's booth.  It isn't until now, however, that this jet setting beauty has gotten what she really deserves, which is a blog post all to her own fabulous self.   Also, am I the only one who refers to their projects as if they are people? Sometimes a project is just has so much personality I can't help myself.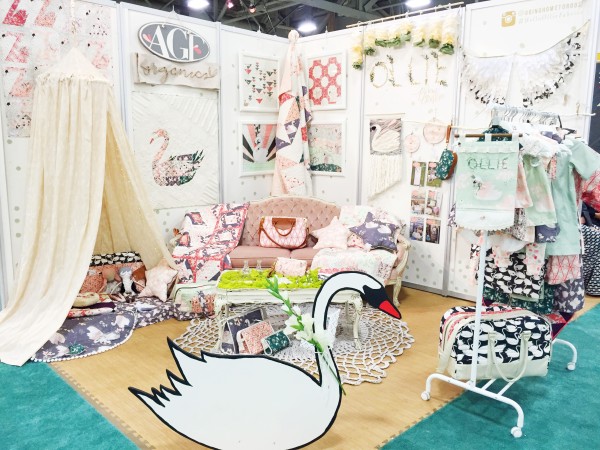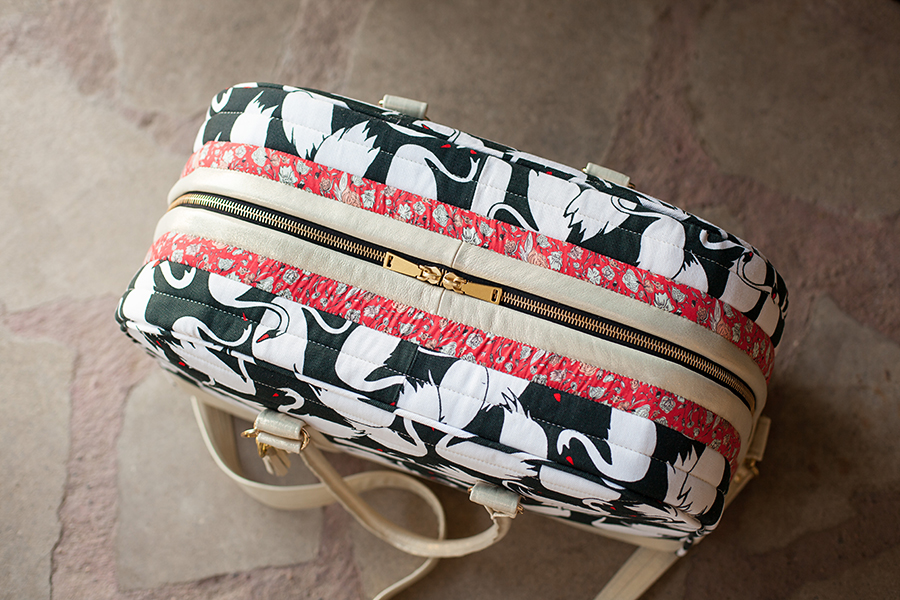 This Hello, Ollie bag is the second iteration of my GPS Weekender (you can see the first here).  The first one was for last year's "Bound to Create the Perfect Bag" competition, hosted by Art Gallery Fabrics.  I can hardly believe it has been a whole year (precisely one year, in fact) since I was able to reveal that first labor of love.  I poured so much into that creation.  I am happy to report that although practice has not necessarily made perfect (yet), this time around I had much better results than the first, especially with regard to the bags handles.  You can click here to see a short video comparing the first bag handles to the method I used for the this bag.  HUGE IMPROVEMENT.  I do have hopes to eventually make this bag into a pattern but there is yet much work to do.. So many ideas…so little time… Such is the life of the overwhelmed creative.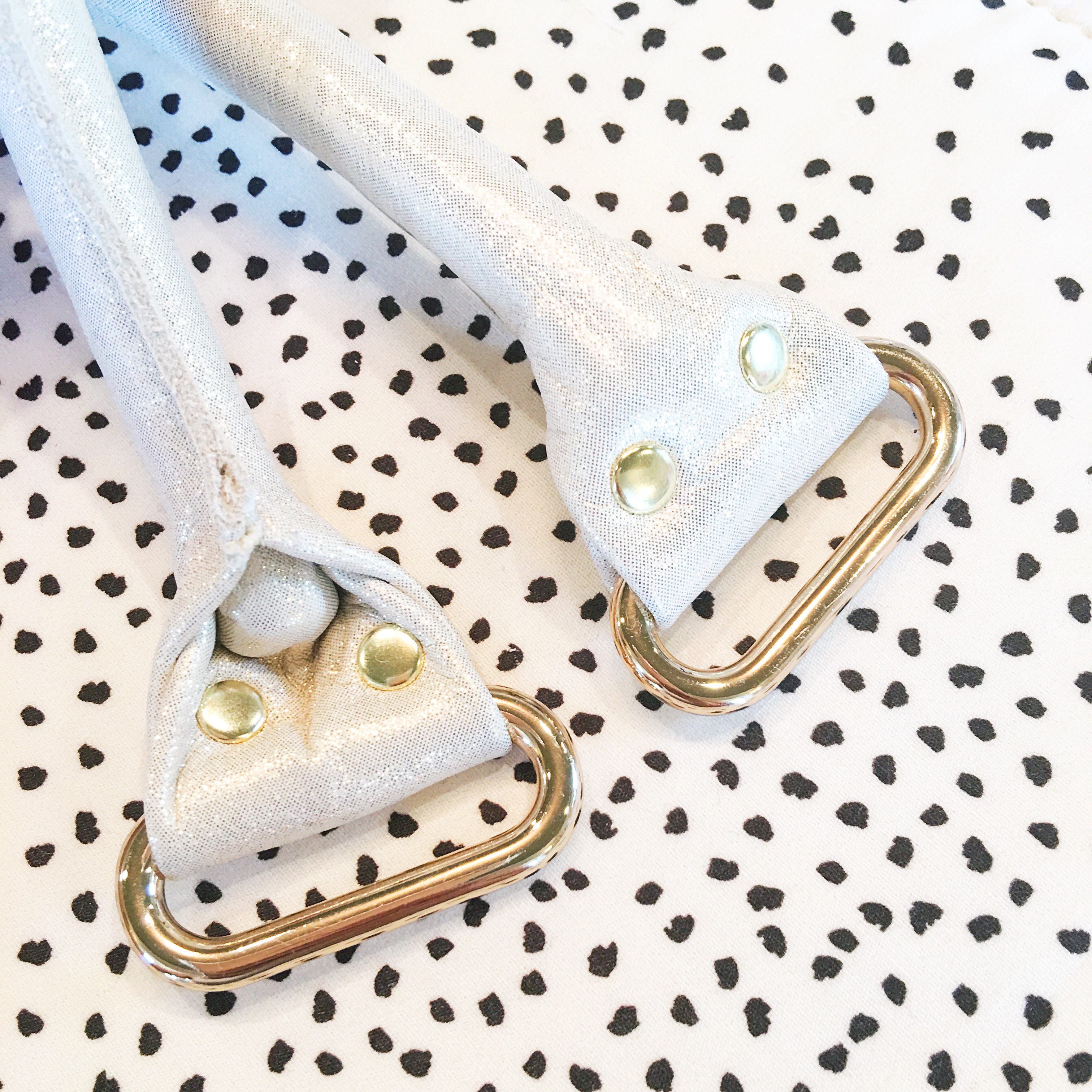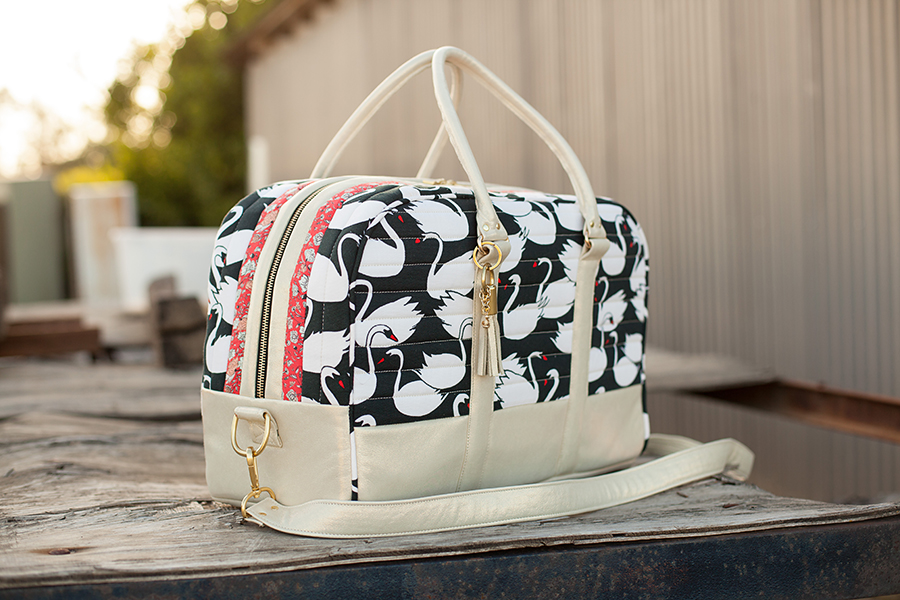 Hello, Ollie is Art Gallery's debut Organic fabric line and the fabrics did not disappoint.  The quality and hand of all of the fabrics was just as I would expect from Art Gallery.  The printing quality was fantastic as ever and the canvas while being sturdy and durable, still had that nice drape that sets their canvas apart from the rest.  I was extremely excited to dig into this one.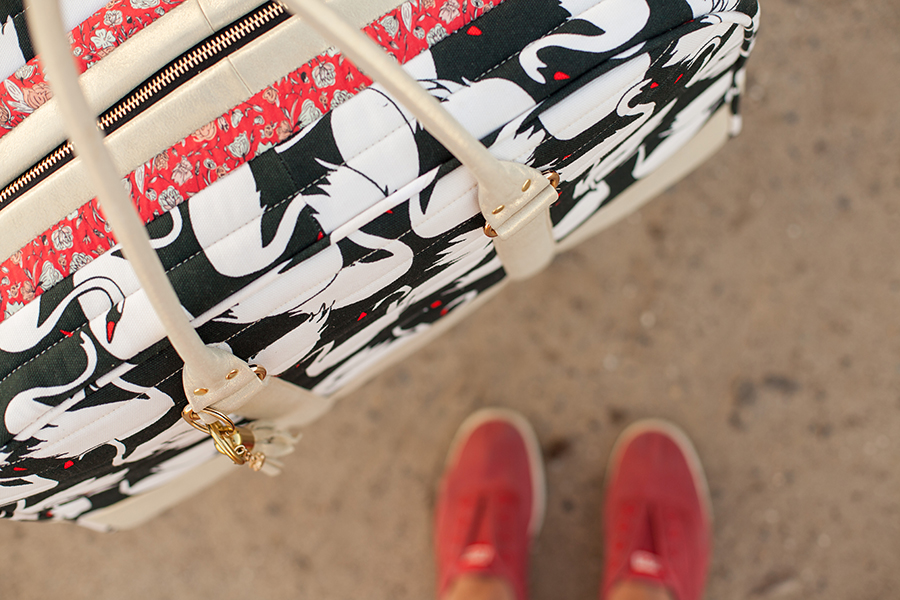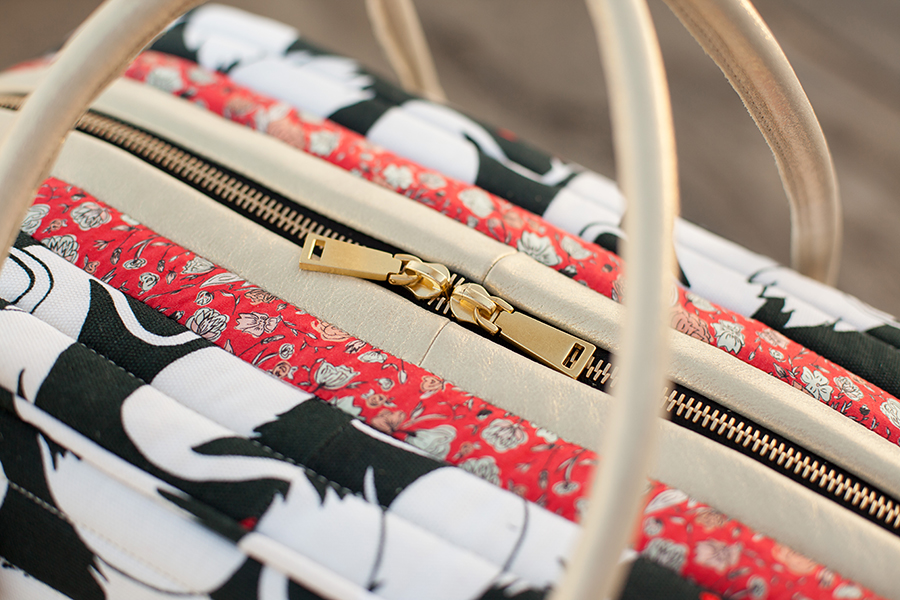 I didn't want this bag to look scrappy but I did want to find a way to showcase more than just one of the prints.  This is such a pretty line and the colors are fantastic.  I wanted to find a way to show more of that.  My goal here was to create something that was simultaneously feminine but with a lot of contrast.  I loved the black and white swans with the red "pop" across the top.  Next I turned to my tried and true sparkly leather.  If you're new around here get used to seeing it because I put it in every project I can.  A woman obsessed, I am.  I love how the high contrast swan print pairs with the light value and the subtle warmth of the tone of the leather.  As soon as this bag was finished I immediately loved it and also wished it was purse sized so I could carry it everywhere.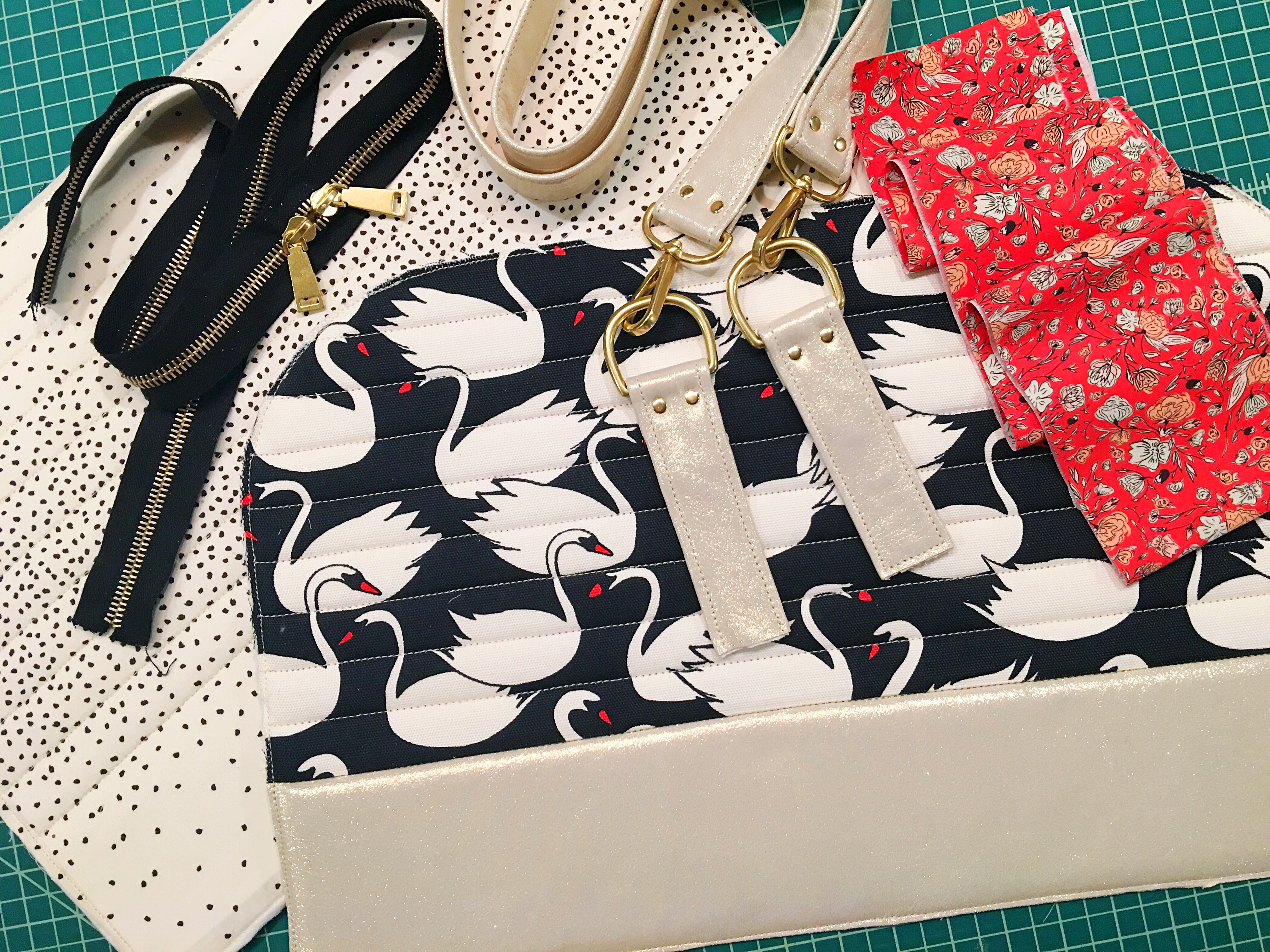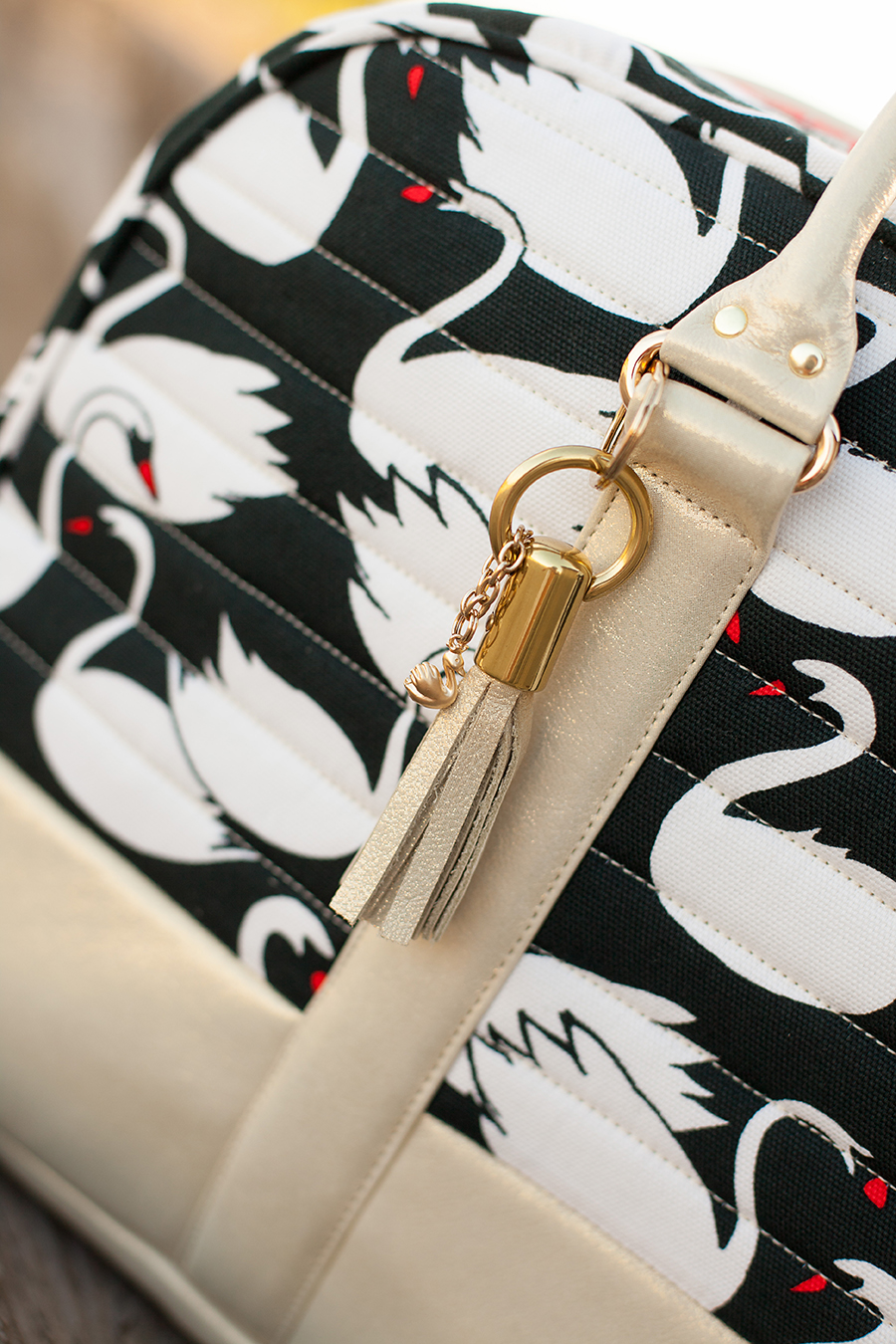 Another thing I am crazy obsessed with is details.  I knew right away that the bag needed a little dangly swan.  The truth is I'm not fully comfortable admitting how much time I spent combing the internet for that swan charm.  I went a little crazy swan hunting but it was time well spent.   Without question that charm needed too be there.  All hardware for this bag, including the zipper, was purchased from the Buckly Guy, which is hands down my best resource for high quality bag hardware.  He sells wholesale to artisans and manufacturers with tiered pricing but still lets the little guy like me with order in small quantities.   I greatly appreciate that as it is super difficult to find the same quality you'd find on a RTW bag in a store somewhere.  The Buckly Guy is THE GUY for hardware…And no.. He didn't pay me to say that…I'd be shocked if he even knew who I was.  Haha!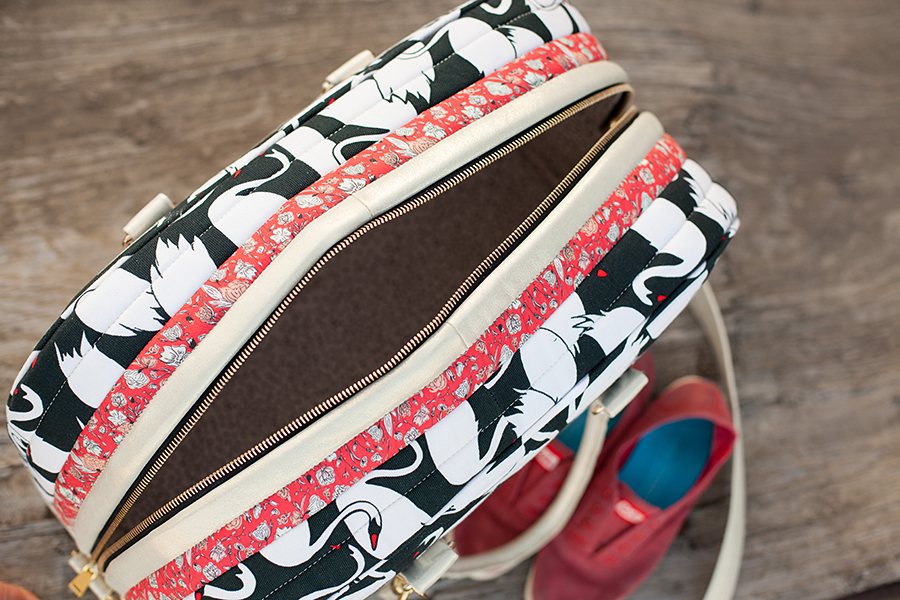 I used the interior of the bag as an opportunity to show a couple more of the prints from the line.  Both of the interior bag sides have slip in pockets with elastic tops to hold your items securely in place while you travel.  The bag is quilted all the way through so that the lining is secure to the inner wall without any bagginess an to maximize space while also being pretty to look at.  All inner seams are bound to cover seam allowance.  The bottom of the bag is very rigid to support your belongings so there is no sagging at the base.  Purse feet also protect the leather bottom from being scuffed.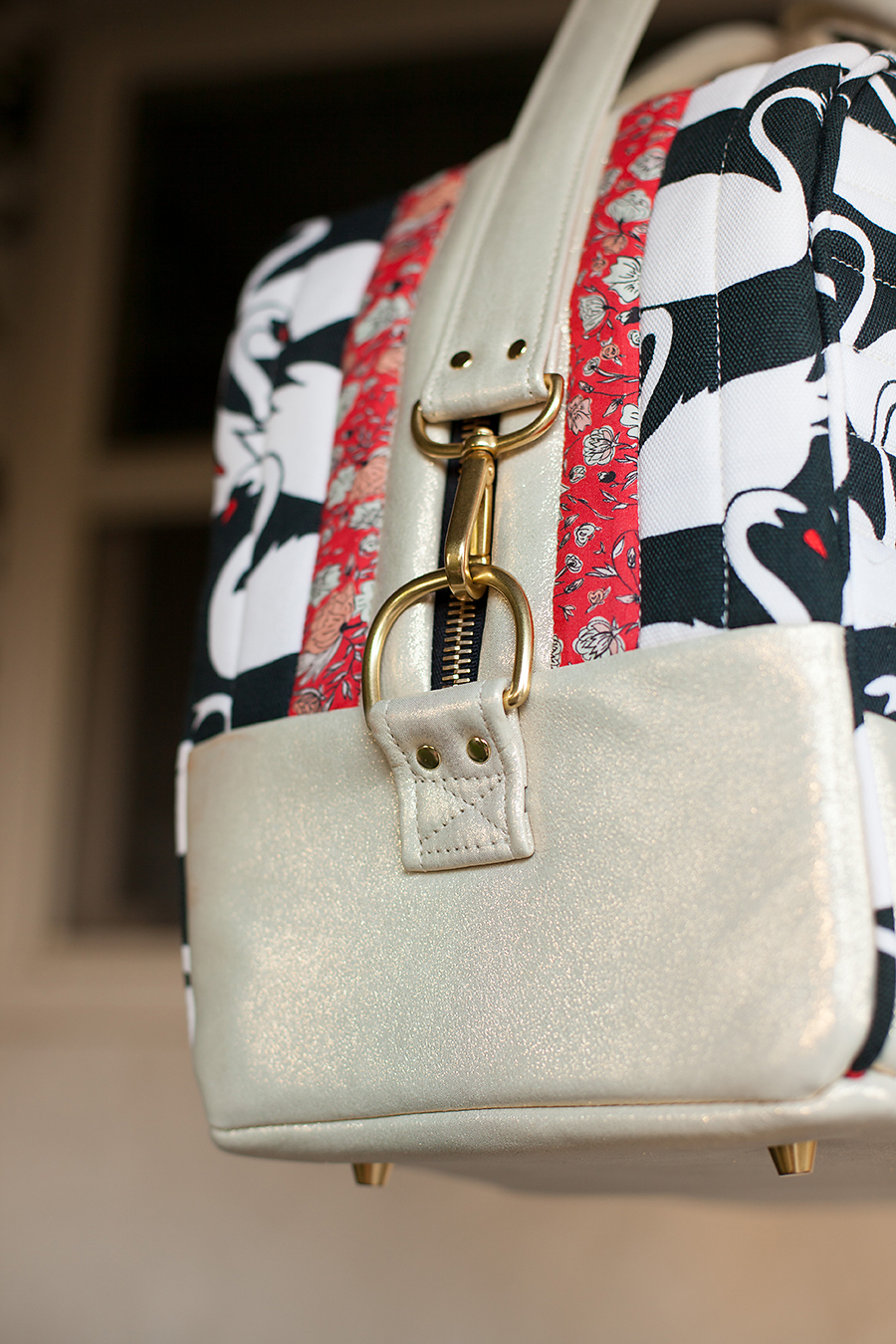 Thank you so much for taking the time to read about my creation.  I love this bag and I enjoyed every step in the process of making it.  Bonnie has a fantastic group of makers lined up to showcase Hello, Ollie and give you inspiration for you projects.  You can find the entire Hello, Ollie blog tour schedule here.
Supplies for this GPS Weekender Bag are as follows: