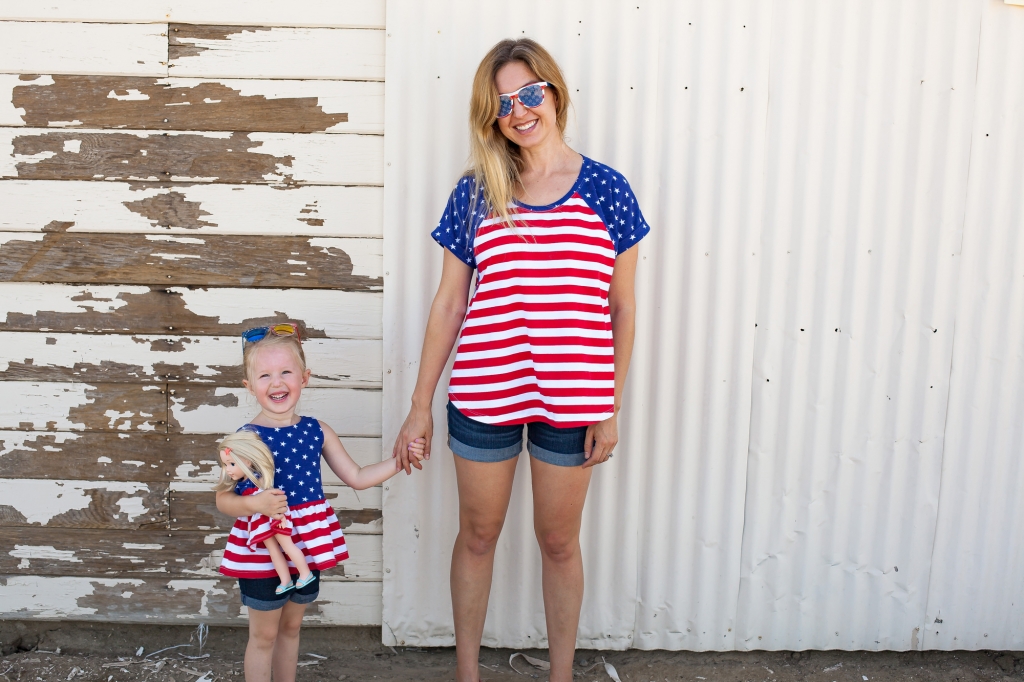 I just want to start by saying that I love Hey June patterns.  Like LOOOOOOOVE…..I'm not kidding when I say that every time I try out one of Adrianna's patterns I cry, "Eureka!  I found it!  My new favorite!"  Indiesew has 14 Hey June patterns to chose from.  The Union Street Tee is a long-standing all-time fav, I also love the Charleston, and do believe the newest, Willamette, is next in my sewing queue.  Hey June has something for every person's style.  Her patterns are always well-written with multiple variations and views.  There's never a lack of options with a Hey June pattern.  I always feel like I get tons of bang for my buck with style variations. The Santa Fe top seen here has six different options to chose from.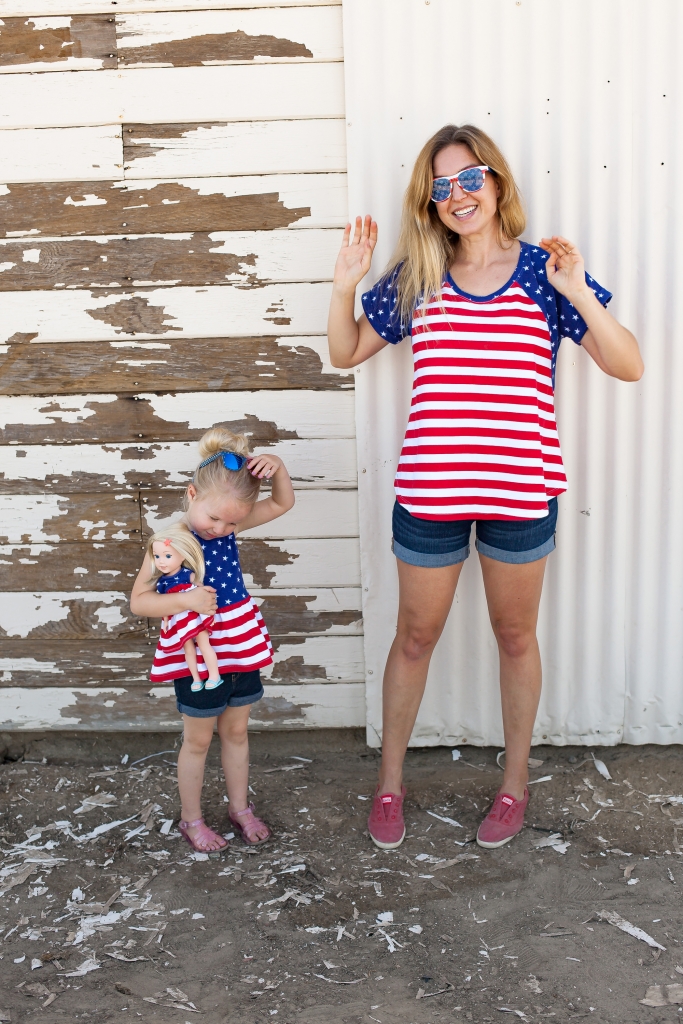 I'm just going to say it.  The Santa Fe is, surprise, surprise…my new favorite.   Seriously though.  I thought the Union Street by Hey June would forever be my favorite go-to basic tee but this pattern here is an extremely close contender for position number one.  I adore how the contrasting of the sleeves looks with this pattern.  It is the perfect easy breezy Summer tee in this hot climate.  And what could be more festive for the 4th of July?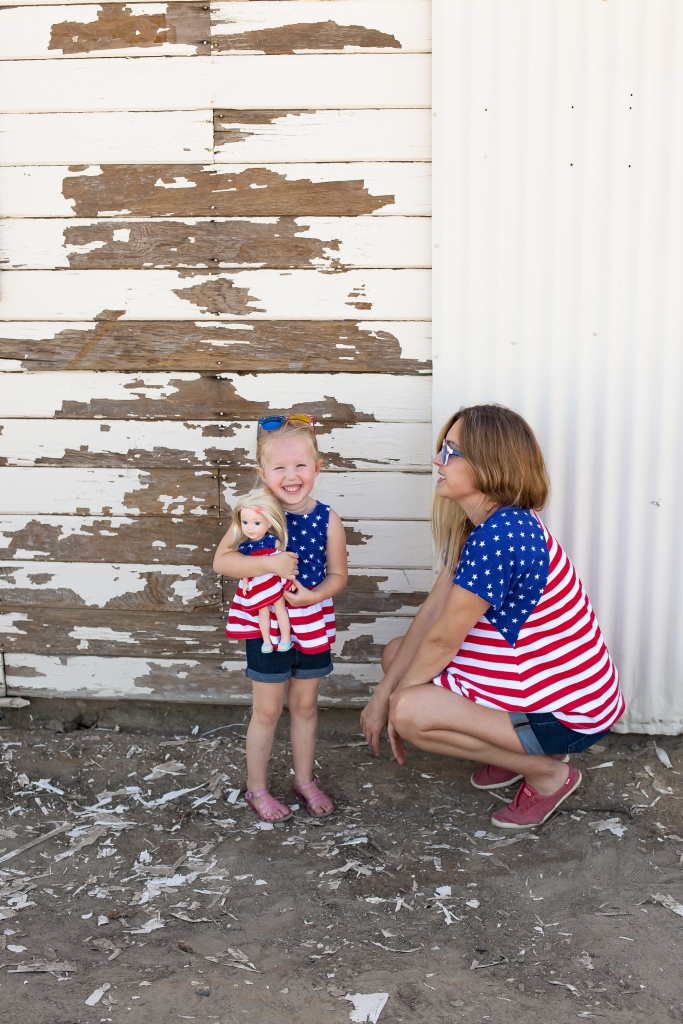 The Santa Fe is an excellent beginner level pattern.  It was very easy to make and I highly recommend it as an introduction to working with knits.  There are very few pattern pieces to deal with which makes it nice and quick.  I absolutely love the cuffed sleeve option (View F).  It gives me the opportunity to finish the sleeve hem using only my serger for a professional finish without the worry of the seam ever popping.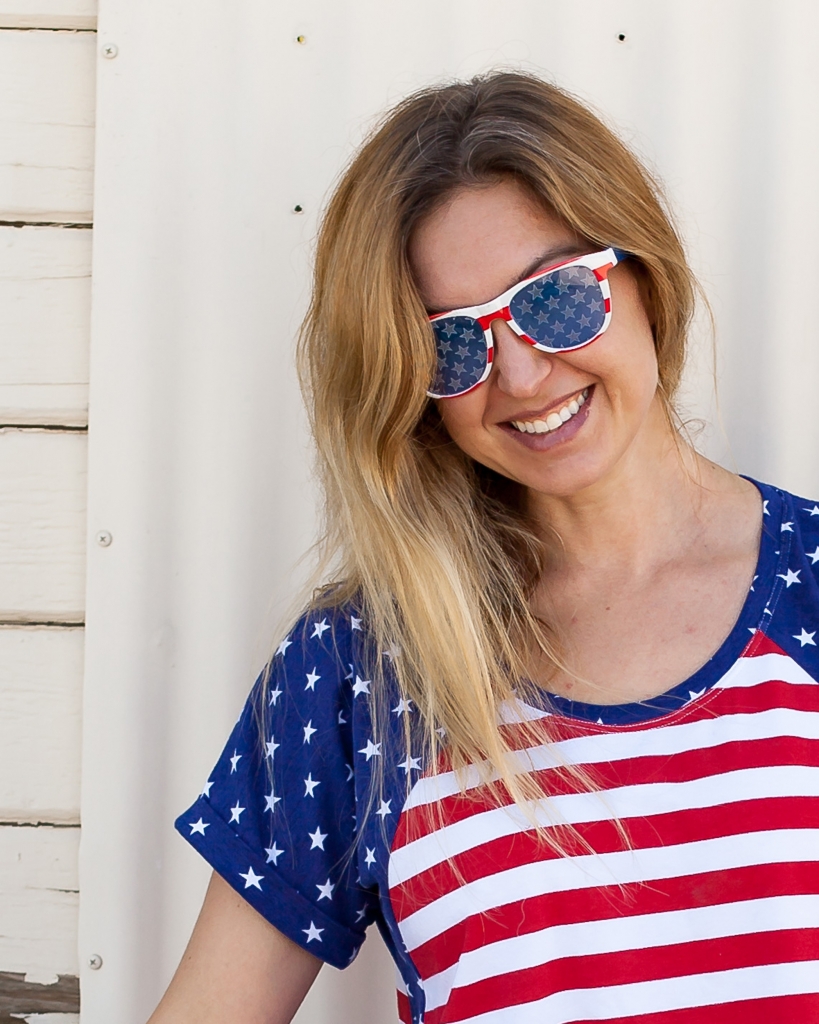 One of these days I'll get that coverstitch machine that I've been dreaming of.  Until then my favorite way to mock the look of a coverstitch is with a ball point twin needle and wooly nylon in the bobbin.  The twin needle gives you those perfectly spaced parallel rows of stitching on top and wooly nylon gives it that extra bit of stretch that you need in the hem.  It gives a professional, RTW look on your knit garments possible without the addition of another machine, which let's face it, is much, MUCH, less expensive.  Before I use this technique I like to serge the raw edge of the garment.  I then turn, press, and glue baste the hem with a very small amount of Elmer's glue to keep the serged edge very flat.  Glue basting the hem makes pins unnecessary and the actual stitching part very speedy.  The secure temporary hold of the glue ensures the hem stays exactly in place so that I can topstitch and not have to worry about catching the hidden edge underneath.  It is an excellent technique that every seamstress should have in their knit-sewing arsenal.  The glue is water soluble and rinses away clean with the first wash.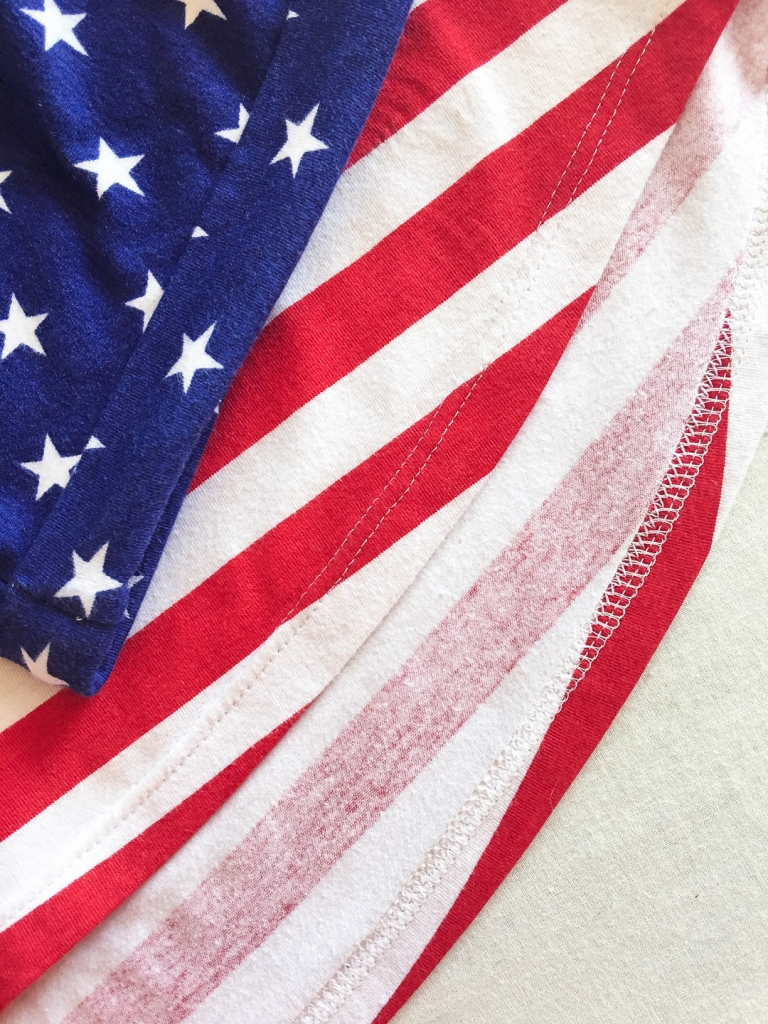 Make sure you take the time to test out the technique on a bit of scrap before you try it on your garment.  I recommend a new test with every project since different weights of knit fabric can have a dramatic effect on how clean the hem will look with the twin needle.  This technique yields best results on medium to heavier weight knits because the tension in the bobbin is sometimes too tight for very lightweight knits.  That being said, you can run a bit of tissue paper underneath the hem as you stitch can help temporarily provide that extra stability you need to prevent lightweight fabric from buckling from the tension of the bobbin.  Simply tear away the paper after the hem is complete.  Any tiny bits of paper left in the stitch will easily wash away when laundered.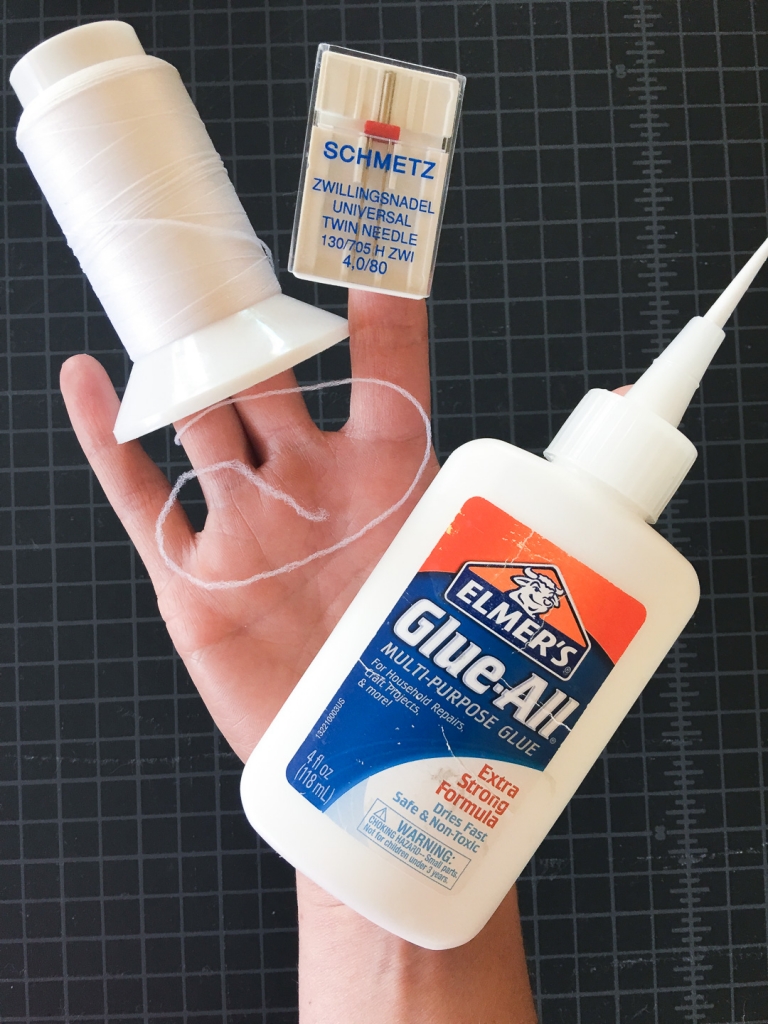 While my favorite thing about PDFs is the ability to download and start working on a project immediately, one of the biggest drawbacks to Print-at-Home patterns is the number of pages you have to print.  One of my biggest pet peeves about  PDF patterns is printing all the pages and using so much paper.  Another reason why I LOVED this pattern is Adrianna had the foresight to include instructions to print only the pages you need for the view you intend to make (Brilliant!).  For this I give the pattern a huge, massive thumbs up.  Nothing deflates my spontaneous creative spirit more than having to tile together 50+ sheets of paper to make 20 pattern pieces when I only need 4 of those to make the garment.  Believe me when I say that if I open up a PDF and there are 50 or more pages to print I will seriously consider whether or not I even want to do it.  Thats how impatient I am.  LOL.  If you are working on your own Santa Fe top you can find the exact pages you need to print for your view on page 4.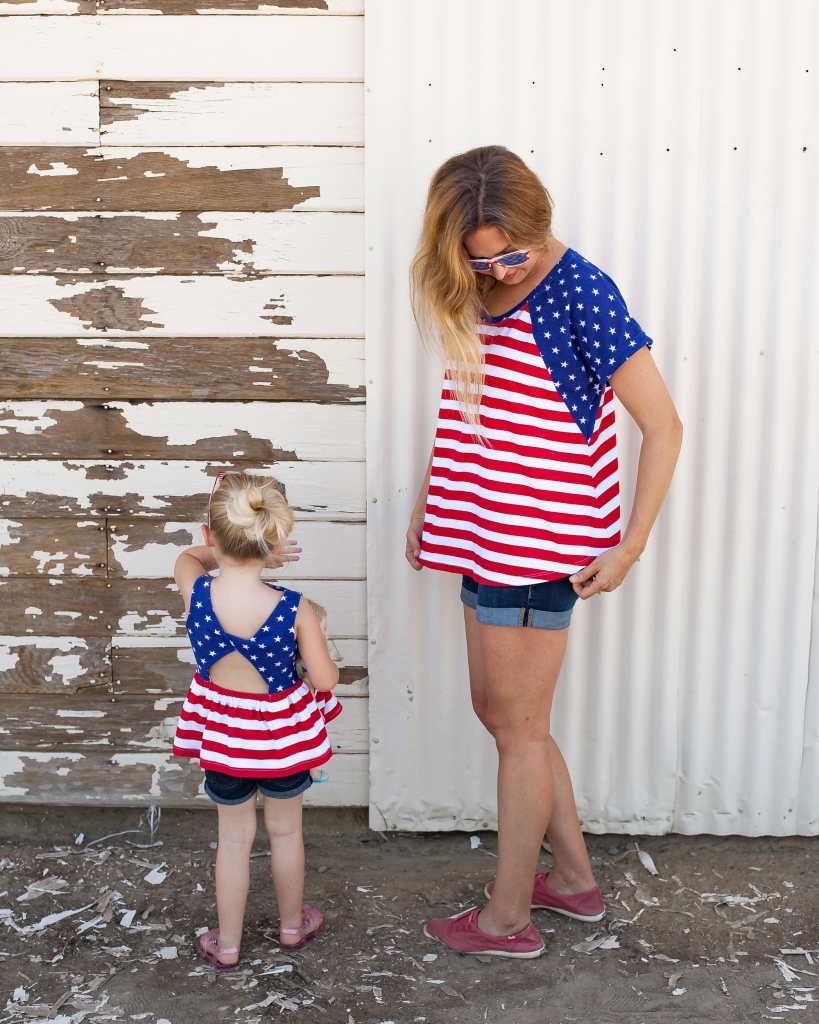 I love the loose and swingy feel of this top.  It is super comfortable and easy to wear.  It pairs excellently with jeans or shorts or even some breezy linen pants.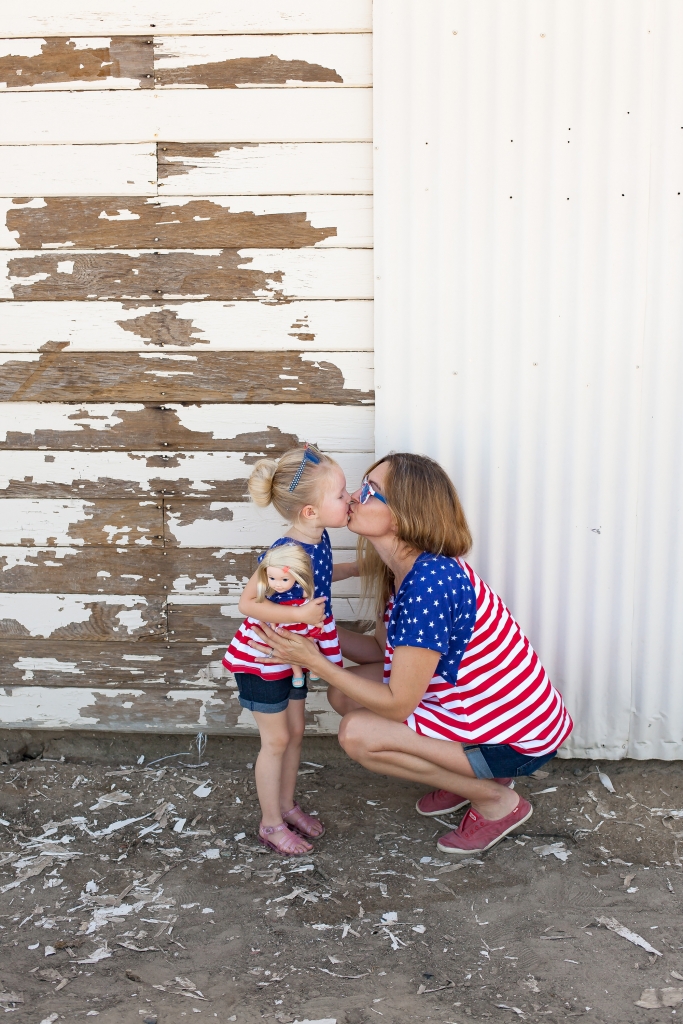 Without a doubt the Santa Fe will be my go-to instant gratification project for a good spell.  It's fast, easy, and adorable with an uncomplicated fit.  You can contrast the sleeves which makes it a good subject for smaller bits of fabric you have left over from other projects.  This is especially true for the sleeveless versions.  It takes a very small amount of fabric to cut the shoulder pieces making this a great scrap buster for knits too.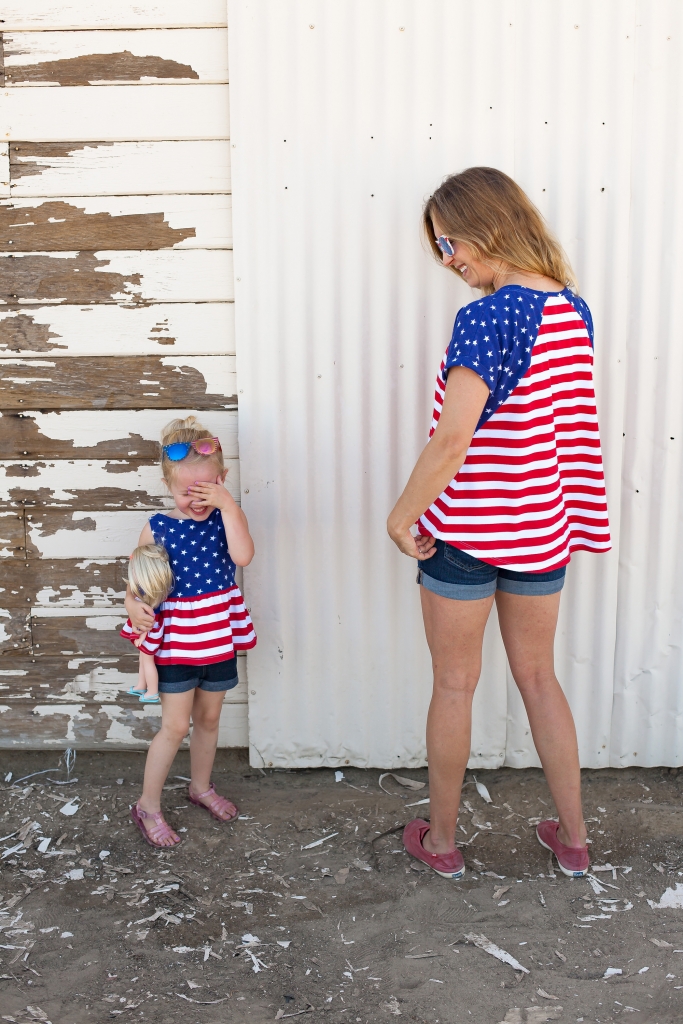 This is absolutely the kind of top you can whip up in 30 min or less (not including the tiling and taping phase).  It really is that fast and easy to make.  For that reason alone it is worth the purchase.  Any garment that can go from yardage to on my body in a half hour is A-OK with me.  I made one very minor change to the pattern and that was swapping the bound neckline for a neckband.  Instructions to do so are included with the pattern and very well explained by Adrianna.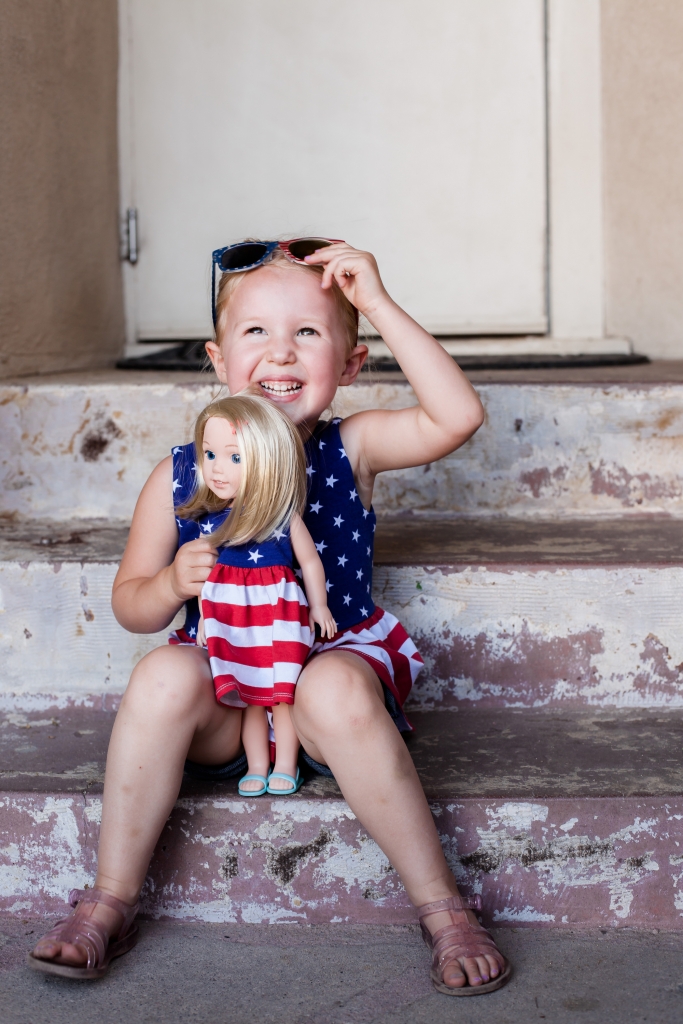 This pattern along with many other Hey June patterns are available at Indiesew.com
Evelyn's top is the Starlight City Dress by Lil Luxe Collection shortened into a peplum and sleeves omitted.
Stars and Stripe fabric can be found at Girl Charlee
Happy Independence Day!
SaveSave
SaveSave
SaveSave