Hello and welcome to the Ginger Peach Studio!  I am super excited and here's why.  This is my first official blog post.  Numero uno.  I've been wanting to do this for a long time because I love to sew and I absolutely ADORE the online sewing community.  As a student of Lauren Dahl's Pattern Workshop I have had the privilege of not only expanding my network of online sewing friends recently, but I also have the wonderful opportunity to see patterns my classmates are putting out before the rest of the world does.  It's all so exciting!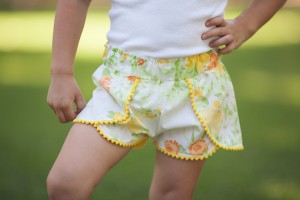 The second I saw the tester call for Coachella Shorts I had images of the little girls in my life frolicking around on the grass playing in them.  I knew instantly that wether or not I was chosen to test the pattern that many, many pairs of these shorts would pass through the needle of my sewing machine.  They just looked too perfect for the sweltering, humid, 100+, mid-summer California days.  What luck that I was selected as one of the lucky few to get first crack at this awesome pattern.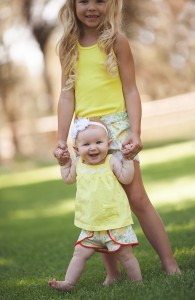 Mandalynn of Striped Swallow Designs really hit it out of the park with her first pattern release.  One of the most important lessons I have learned this year in my creative life is that a design/pattern does not have to be complicated or difficult to be great.  This pattern was a phenomenal reminder of that lesson. It is a great pattern for all skill levels, beginners and experts alike.  If you are new to sewing and want to make something adorable for your daughter, niece, granddaughter, etc.,  this is the perfect pattern.  If you are an advanced sewist and you want to make something you can complete during nap time, it's instant gratification, and you can put it on her right when she wakes up.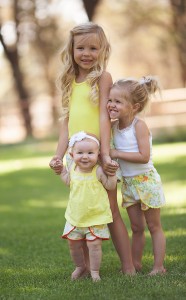 I choose two different vintage pillowcases acquired at my favorite local thrift store to make every pair of shorts you see here. That's right. Two pillowcases made 5 pairs of shorts and honestly I probably could have gotten one more pair out of them. Which is to say, this pattern requires very little fabric and another reason why I think it is awesome. All trim was purchased at Joann. The pom pom trim can be found here.
The lovely models you see here are my nieces Brooke (5), Brie (2.5), and my daughter Evelyn Julia (6 mo.). They all loved their shorts and I know for a fact that Brooke wore them to bed and possibly the next day as well. My sister (who is also the talented photographer) may have had to peel them off of her. They were a hit. Every person that saw the girls in their shorts wanted to know where the can get a pair for their own. Run don't walk to Striped Swallow Designs to get a copy of Coachella Shorts pattern. It's sure to be hit for you as well.