Welcome to my stop on the Uptown/Downtown Dress pattern tour! I've sewn up two lovely versions of this fantastic dress pattern by Sew Straight Pattern Company and I have to say, I absolutely love it. What a fun and comfortable summer dress for this hot, hot, valley I live in. Terri, the designer behind Sew Straight Pattens is another friend that I have met while working through Lauren Dahl's Pattern Workshop. I'm telling you it is so fun to sit back and watch all of the great patterns that my classmates are turning out. It's like a continual parade of awesome.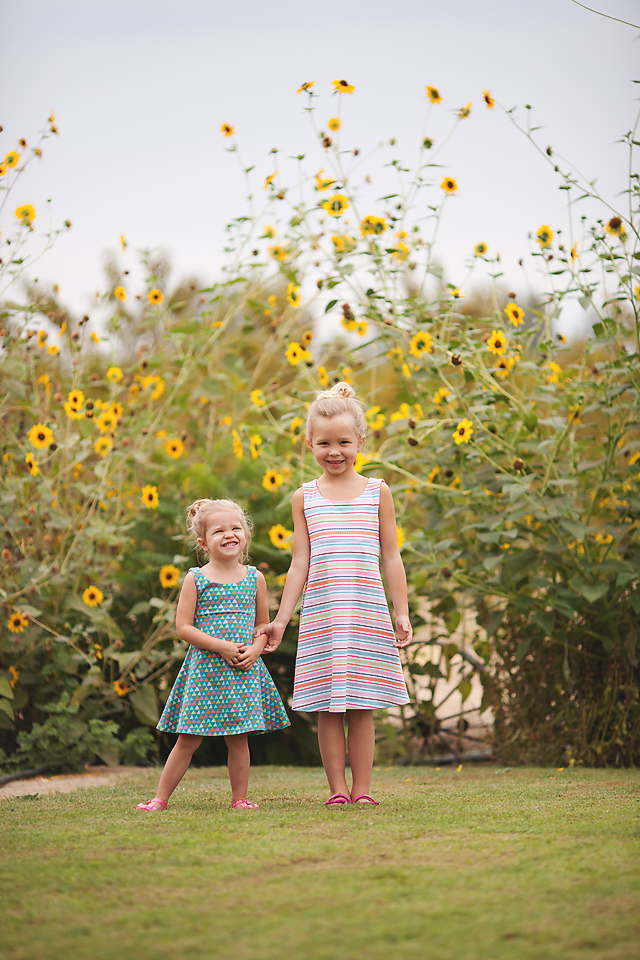 The weather dictated my sleeve choice for these dresses but I can't wait for to sew up some Fall versions when the things start to cool down around here. Terri provides three sleeve options with this pattern. Sleeveless, as seen here, a cap sleeve, and an elbow length which I'm enamored with. Also included with the pattern are instructions to make the dress with a stretch lace overlay. Stay tuned for the lace elbow length version of this dress come fall because the wheels are already turning in my head with all the different ways this dress can be made. I chose to make these versions very casual but dressier versions are on my radar for sure. The fact that the pattern is made for knit fabric just adds to the appeal and comfort of it. What a great garment for uninhibited play.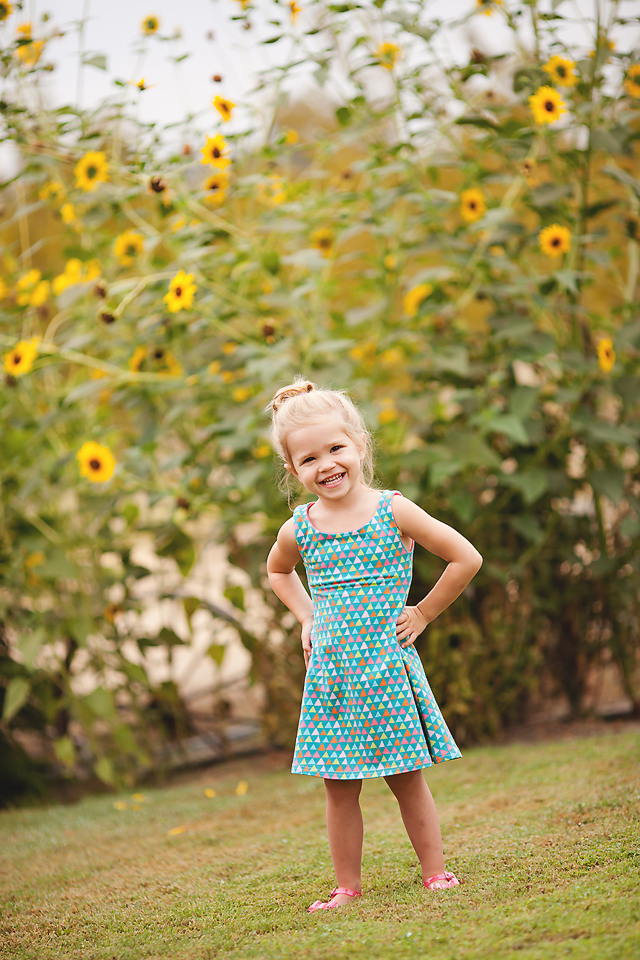 Terri also provides multiple options for finishing the armholes and necklines. I went with the facing for the upper portion of the bodice because I wanted a clean finish with no topstitching. The instructions clearly describe how to apply a knit bias trim to your neckline if you so choose which others on the pattern tour have done with fantastic results. Yet another reason I love this dress is the lining can be cut exactly as the main fabric to make the dress completely reversible. 2 dresses in one… what could be better than that? And its easy, to boot. I would say this is a pattern for the confident beginner but only because it is intended for knits. It really isn't a difficult make and if you are willing to take the time to play with your machine a bit and get your zig zag stitch dialed in it is easy peasy.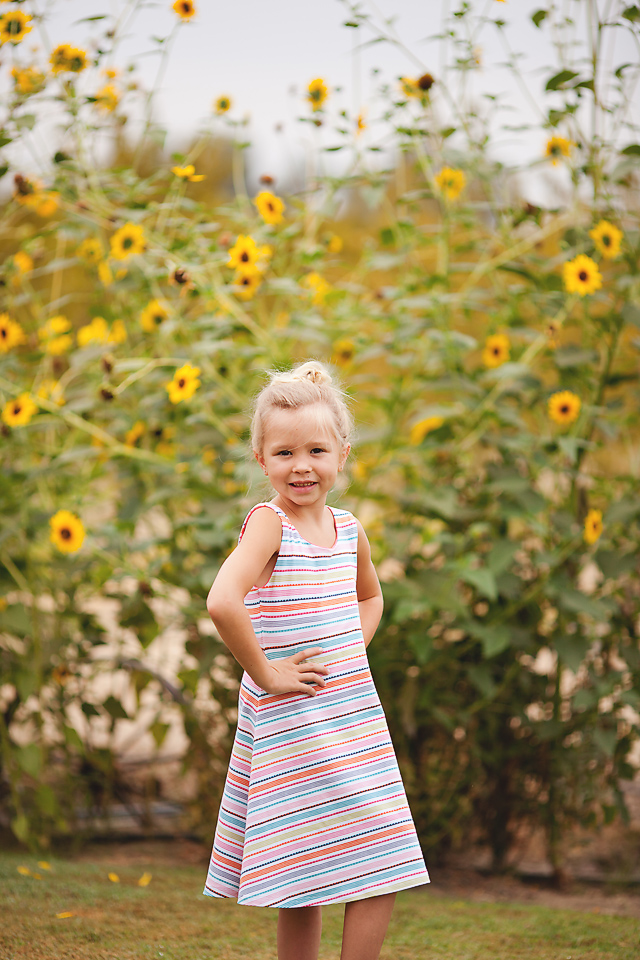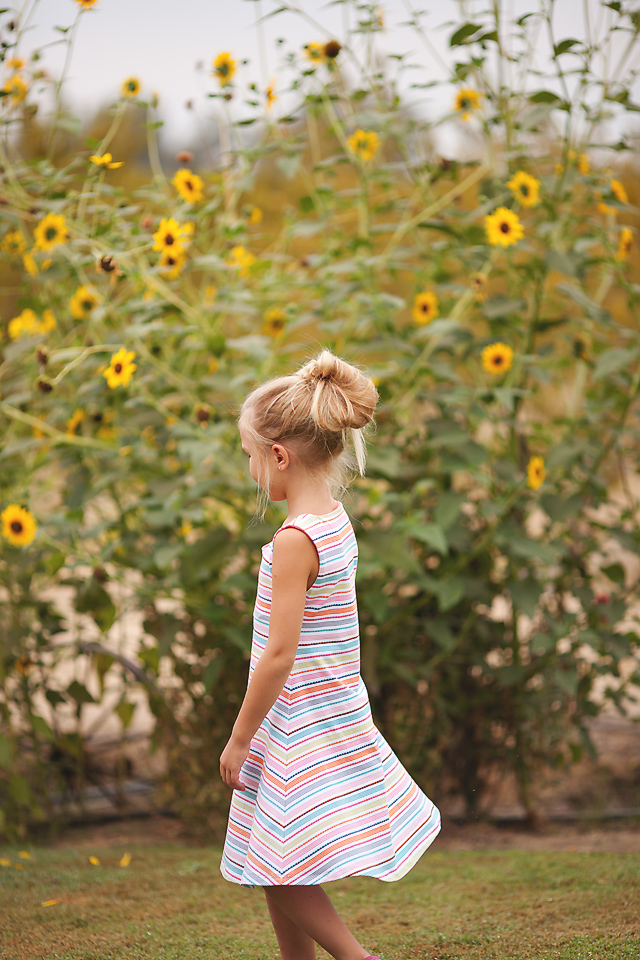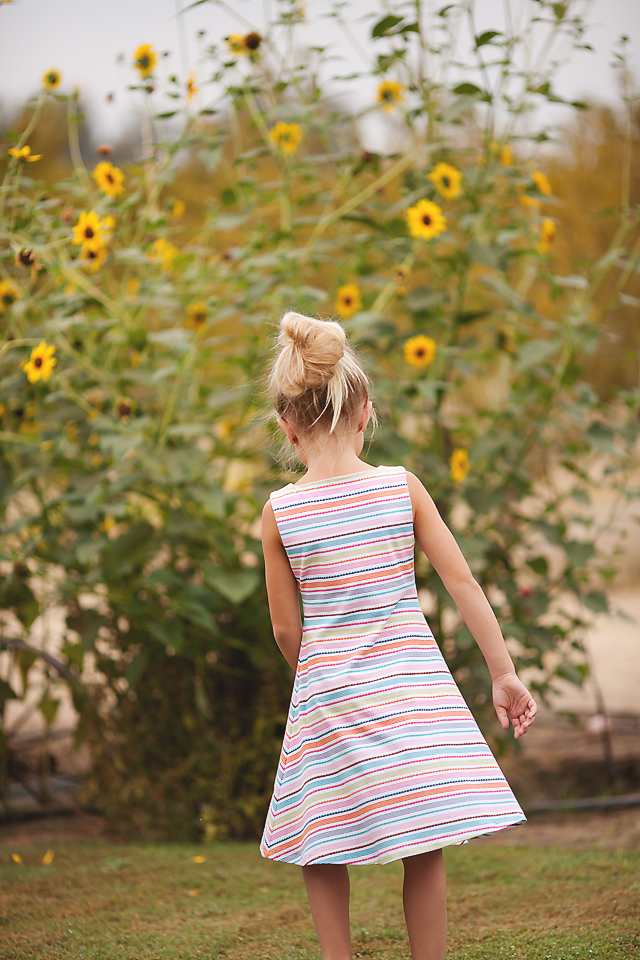 I just love making clothes for my sister's girls. They are just so cute and they always love the things I make for them. It makes me so happy. Plus, when my daughter Evelyn gets big enough I have a feeling these cute and comfy dresses will find their way back to me. Few things give me as much joy as when I pop in at my sister's house and the girls happen to be wearing something I made for them. It warms my heart to no end.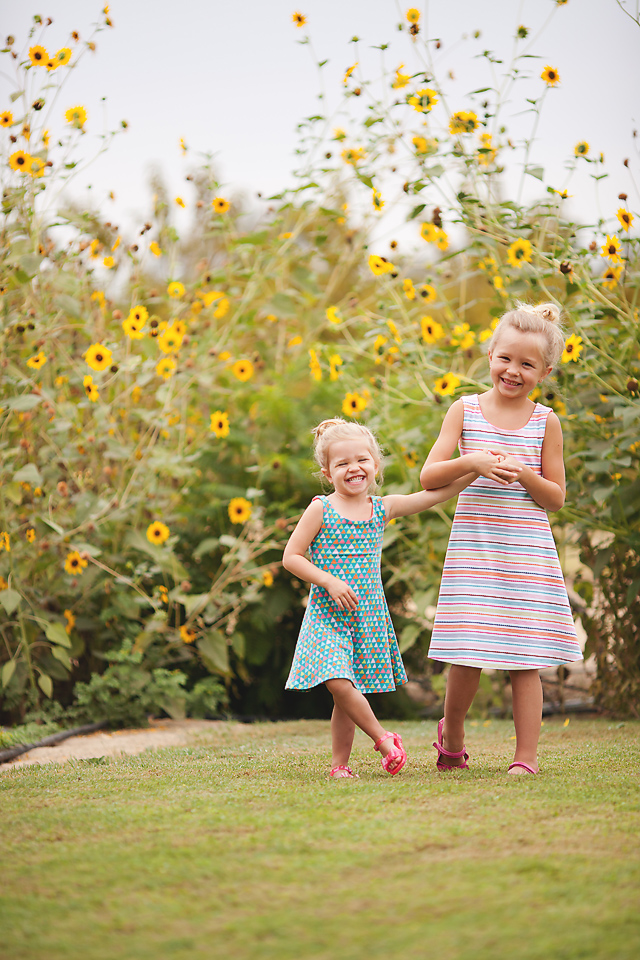 Ready to sew up a version of your own? Head on over to Sew Straight Pattern Company's Shop and get yourself a copy. There's even a coupon which you can use for a 30% discount for the duration of the tour with coupon code: uptowndowntowntour . This pattern truly does not disappoint. There will be no shortage of inspiration with all of the lovely ladies Terri has lined up for the Uptown/Downtown blog tour either. I am excited to see what everyone has created.
And last but not least, did I mention there was a giveaway!? That's right. All you have to do is enter using the rafflecopter below. There are tons of entry opportunities so throw your hat in the ring and good luck to you.
Winner of the Giveaway will receive:
Winners Choice Pattern from Filles A Maman
Winners Choice Pattern from Elegance & Elephants
Winners Choice Pattern from Paisley Roots Designs
The Soleil & Foxglove Pattern from Selvage Designs
The LOL Swing Top fro Jennuine Designs
$30 worth of fabric from L'oiseau Fabrics